Blog
Dog Walking App Development Guide
Dog Walking App Development Guide
Our life is quite unpredictable. Imagine that you came home after overtime at work. The last thing you want is to walk your dog, who is staring at you with its sad eyes. A lack of time is a common concern for many dog owners. Nevertheless, the dog still has its own needs, and it should be walked regularly. Now we have a mobile app even for dog walking.
In the past, dog owners had to find a walker in advance, and most dog walking businesses operated offline. Now, pet walking apps work great for both planned and unplanned on-demand dog walking services.
In this article, we have gathered the main steps on how to develop an app like Uber for finding dog walkers.
What is an on-demand platform for dog walkers?
All dog walking or sitting mobile application operates as an on-demand two-sided marketplace:
A pet owner sends a request for walking a dog.
A dog walker receives the request in real-time and confirms the booking.
During the walk, the dog owner can track the route with GPS, receive photo updates, and even poo and pee reports.
When the walk comes to its end, the dog walker brings the pet home and receives payment via the app.
The dog owner can rate the walker and even write a review about the service.
And now, let's look at the best dog walking apps.
FUNCTIONAL VS NON-FUNCTIONAL REQUIREMENTS: MAIN DIFFERENCES & EXAMPLES
Popular dog-walking platforms overview
As we said, apps that bring together dog walkers and owners have significant market opportunities, and to create the app "Uber for dog walking", you should keep up with the industry leaders.
Rover for dog walking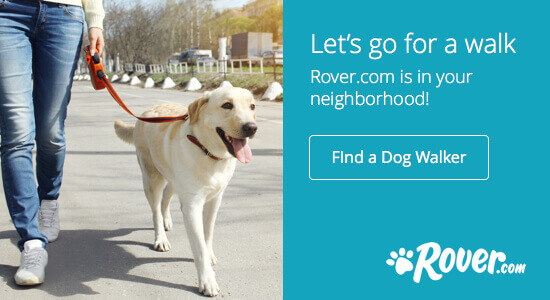 The company was established in 2011 in Seattle, Washington. Currently, Rover's annual revenue reaches $11 million. The company counts over 65,000 dog walkers and pet sitters across the U.S. The leading River service is pet sitting. Rover is also known as Yelp for dogs because to book a walk, a dog owner searches through dog walker profiles and then selects one to set up a walk with. App users can receive the following services:
Dog Walking from $30. You can track start and stop walk times, a map with a total distance, pee, poo, food, and water breaks via the app.
Doggy daycare from $20/ day. You can book daytime pet care in your sitter's home.
Drop-in visits from $20. Instead of a full-time pet sitter, you can book someone to drop by a few times a day to feed and check on your pet.
House sitting from $20. In case you are leaving town, Rover gives you the option to book a sitter to take care of your dog and your home.
Dog boarding from $20. You can connect with a sitter who'll welcome your dog into their home when you're out of town.
All Rover sitters and walkers have to pass a background check and a safety quiz. Pet owners can book an in-person meeting with a walker to discuss expectations.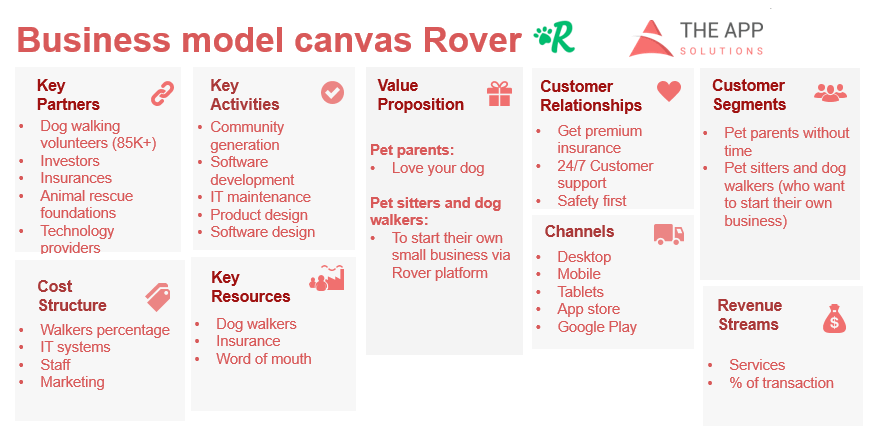 Wag! for Pet Services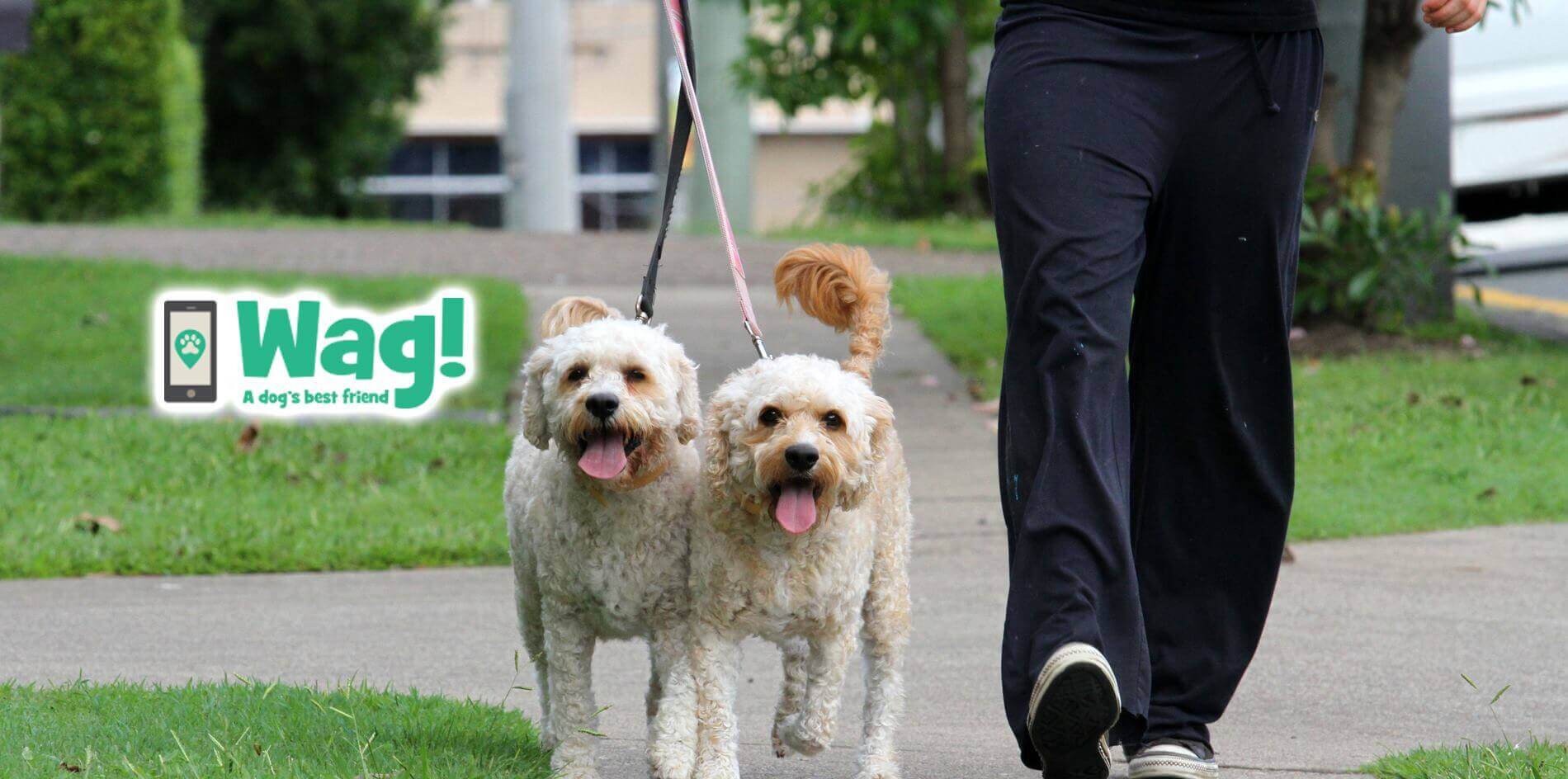 Wag Lab, also known as Wag!, was founded in 2014 in Los Angeles. Currently, the estimated Wag! Annual revenue reaches $2,5 million. Wag works like Uber for dogs. When a dog owner requests a walk, all nearby dog walkers receive notifications. If the dog owner is satisfied with the service he or she can tip the walker right through the app. Whoever responds the quickest gets the walk. Wag! has even more services to offer:
Wag! Walk from $20. You can give your dog a walk with a selectable walk length.
Sitting from $39. You can book a sitter who will care for the dog at your home.
Boarding from $39. If you leave your hometown for a vacation or business trip, a boarding host will care for your dog in their home
Daycare from $39. You can leave your pet at a daycare host's home for a one-time, or repeated visit.
To build trust among pet owners, Wag! does comprehensive background screenings to ensure that dog walkers and sitters are reliable. Besides, the platform has 24/7 customer support.
WHAT IS MVP IN SOFTWARE DEVELOPMENT?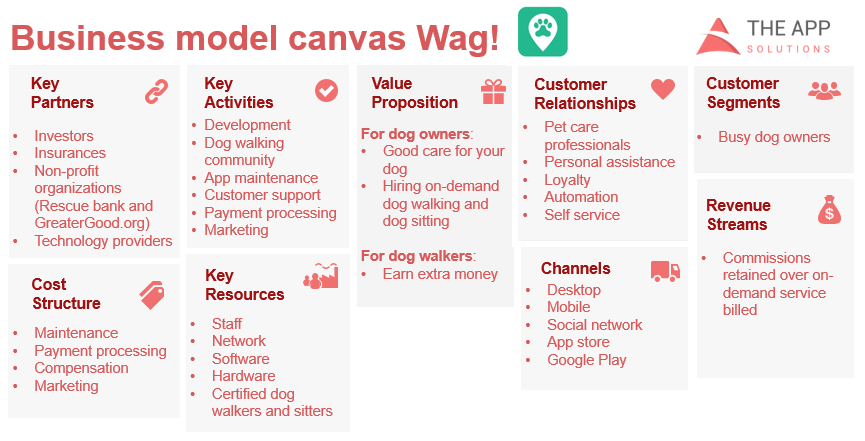 All these on-demand dogs walking Uber app examples are very inspiring. But what does it take to develop an app like Wag for dog walking? Let's check it out.
How to make an app for dog walkers: a step-by-step guide
To launch your dog walking business, you will need to go through the following steps.
1. Find your niche
By choosing a narrow niche for your dog service app you guarantee your business success. Below we have gathered the most prominent niches for an Uber for dogs two-sided mobile app:
Pet Sitting. Professional pet sitters will play with pets, feed them, or provide more personalized care, like giving medication.
Dog Training. You can create an on-demand service for dog training with professional handlers. There is much space for dog trainer services because in the US alone there 74 million dogs.
Pet Grooming. On-demand grooming is another prospective pet service niche. U.S. Bureau of Labor Statistics says the demand for pet groomers is expected to rise by 12% during this year.
2. Research competitors
At this stage, your main goal is to get a comprehensive competitive landscape view. To achieve this, you can do the following:
Search for companies with similar service ideas or overarching business ideas
Check their social media profiles, websites, and online communities.
Use ReferenceUSA, Hoovers, Ahrefs, Alexa, and Keyword Spy to receive deeper insights.
Then, categorize competitors into three levels:
Primary Competition, i.e., businesses that are targeting the same audience and provide similar services
Secondary Competition. Companies that offer their services to a different target audience fall into this category.
Tertiary Competition. These might be companies that provide related services or products, like pet supplies or food. Such companies could become your partners when you decide to expand your services.
HOW TO CREATE A LOCATION-BASED APP FOR ANDROID AND IOS
3. Choose a Monetization Strategy
Most dog walker marketplaces apply the business model of the service aggregator platform. Thus, you can choose between:
Fees form transactions. You can charge a percentage from each payment made via your dog walking marketplace.
Paid promotions. Dog walkers can increase their visibility in the search with advertising.
Paid ads. You can charge pet-related businesses for running their ads on the app.
Surge Charges. In some areas, the demand for dog walking is higher than the supply. Thus, you can put in surge pricing to stimulate dog walkers offering their services at a higher price.
4. Create a Feature list
To connect dog walkers and pet owners, your app should perform like a two-sided marketplace where there are a buyer and seller. For such projects we suggest the following feature list:
For Pet Owners
Personal profile where the pet owner can put the dog's name, age, personal preferences, things that the dog does not like, and so on.
Search where pet owners can see available dog walkers and sitters in their area. Such a feature requires Google Maps API integration, as we did for the QuePro app. To find out more, read the full case study.
Filters for search results to find the nearest available dog walker.
Walk booking and scheduling. The pet owner can book the next walk of the dog or schedule the days and time for a walk.
Walk report. In this section, the pet owner can track the walk route distance, start and end time.
WHAT TECH STACK TO CHOOSE FOR YOUR PROJECT
For Dog Walkers
Profile. A walker can tell about the previous dog walking experience, put a photo and links to social media profiles.
Requests. In this section, dog walkers will receive all new requests for a dog walking job.
Time availability. Dog walkers can add the time when they are available for dog walking in the calendar.
Other Important Features
Log in via social network accounts such as Facebook, Google, or LinkedIn for new users.
Online chat, where the pet owner can discuss all details with the dog walker.
Build-in Payment gateway allows pet owners to pay walkers with their credit cards.
Push-notifications for new requests and walk progress.
5. Develop the App Design
Well-Thought app design is key to smooth user experience and app success. To create a convenient and user-friendly design you will need to complete the following:
Sketching. You need to prioritize the app features and visualize them through user experience. You can achieve this with a few rough sketches of the primary app screens.
Wireframing. Now you can start creating the app wireframes. The wireframe should include app elements such as text, buttons, boxes, lists, and event descriptions.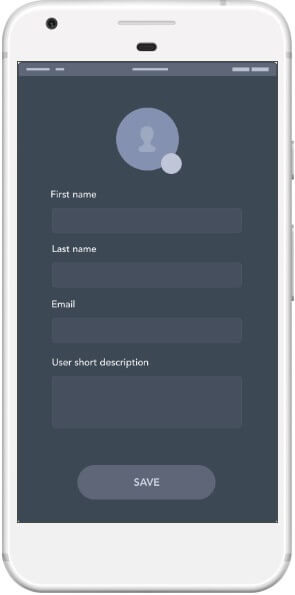 [The App Solutions app wireframe example]
Prototyping. Now the design team will use your sketches and wireframes to create the app design prototype. With an app prototype, you will make your app more real for your potential investors. Besides, you can receive feedback from testers on app usability and user-friendliness.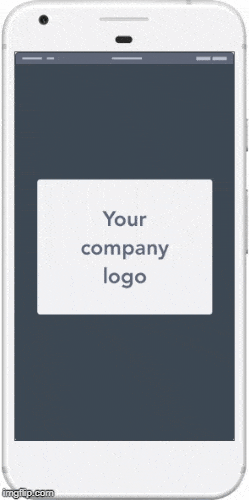 [The App Solutions app prototype example]
6. Develop an on-demand dog walking app MVP
By launching your app as MVP, you can manage the user's expectations. Below we share the Rover app clone MVP estimate in hours based on our assumptions to kick off the project.
HOW MUCH DOES IT COST TO DEVELOP AN APP: DETAILED FEATURE BREAKDOWN
| | | |
| --- | --- | --- |
| FeatureScreen | Design | Android/ iOS |
| User registration (email, Facebook) | 12 hours | 18 hours |
| Profile of user (photo, bio, dogs and their photos) | 12 hours | 24 hours |
| Add/edit information of dogs to the user's profile | 8 hours | 20 hours |
| Filter routes by type, location | 8 hours | 16 hours |
| Search on map | 8 hours | 26 hours |
| Booking section | 6 hours | 4 hours |
| Total | 54 hours | 108 hours |

The development and design stage of app MVP takes from 2 to 4 months and costs from $25K. Once your app MVP is ready you can make the project live and upload it to app marketplaces.
7. Gather user feedback
Gathering feedback from app users has several advantages. Firstly, you can find out:
Whether your app meets user expectations or not
How well the user experience is shaped, and so on.
Besides, app users can point out app disadvantages that you would never notice. Secondly, you can ask them what features they want you to add to the app to make it more convenient. By implementing those features, you will give app users the sense of being heard. Besides, you will also encourage them to participate more and send more feedback in the future.
HOW TO MAKE AN APP: LIFE CYCLE OF MOBILE DEVELOPMENT
In a nutshell
In recent years dog walking and sitting apps have become very popular among pet owners. Such applications give pet owners more freedom and the ability to take care of their pets even in the unforeseeable conditions of modern life. To create your dog walking app you need to go through the stages described in this article.