Blog
Microsoft Cloud For Healthcare: How MS Cloud Solutions are benefiting Healthcare Organizations
Microsoft Cloud For Healthcare: How MS Cloud Solutions are benefiting Healthcare Organizations
The medical industry is rapidly evolving and becoming more technologically inclined. Therefore, building an interconnected healthcare system to adapt to these changes has proven to be complex and elusive. Notwithstanding, maintaining a seamless connection between data insights, care teams, and patients has remained invaluable in offering quality medical care to patients.
As a result, modern innovative health institutions need a solution that can help them stay abreast with the evolving healthcare market while offering customized healthcare services to their patients. And one of the best clouds for medical solutions is known as the Microsoft Cloud for healthcare. This cloud solution allows medical institutions to evolve with changing trends while prioritizing healthcare data security, patient access, and interoperability. It also allows patients to customize their medical care journey by enabling them to stay connected with their care providers in real-time.
But what is Microsoft cloud for healthcare? Stay with us as we take you on a journey to discovering the key elements of MS cloud for healthcare.
What is Microsoft Cloud for Healthcare?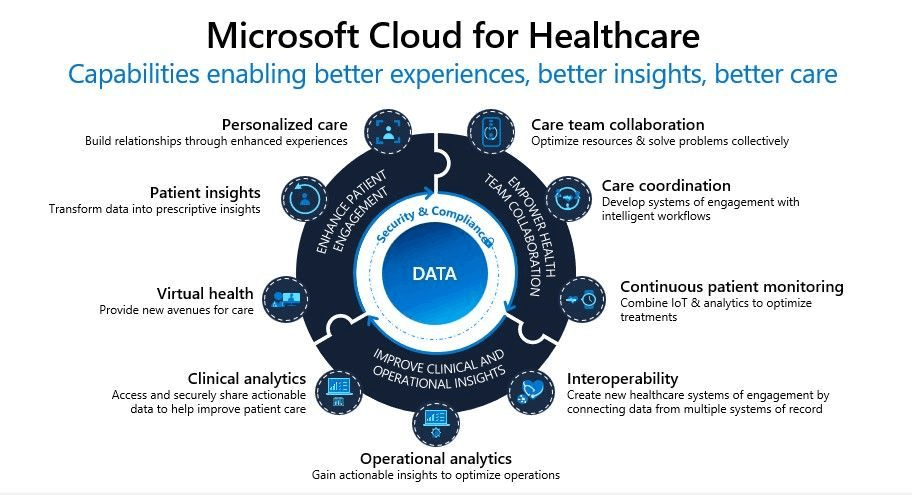 Microsoft Cloud for Health is a platform that offers innovative tools that help health institutions optimize patient engagement, enable collaboration among health teams, and accelerate clinical and operational data insights. As a result, Microsoft cloud for health makes it simpler to deliver effective personalized care while ensuring that health institutions uphold the standards of security and compliance with patient health data.
What more? The Microsoft Cloud for Healthcare allows medical institutions to sync their clinical and business needs. Thus making it easier for them to deploy faster, attain digital transformation, and better plan their patient's future.
But how is it possible? Through combining the powers of Azure, Power Platform, Dynamics 365, and Microsoft 365, Microsoft Cloud for Healthcare taps into the potential of the MS cloud to revolutionize the patient experience by making it more accessible and safe.
THE APP SOLUTIONS – CUSTOM HEALTHCARE SOFTWARE DEVELOPMENT COMPANY
Top 4 Benefits of Microsoft Cloud for Healthcare
The easiest way to understand how Microsoft Cloud Solution can help health organizations deliver better medical care experiences, insight, and care management is to peep through the benefits of Microsoft Cloud for Healthcare. Below, we will scan the top 4 benefits of Microsoft services for the medical industry.
Of course, the medical world is evolving rapidly, but with Microsoft Cloud for healthcare, any healthcare solution customer can catch up with changing trends without breaching health data standards. In addition, Microsoft Cloud for Healthcare offers services that can help healthcare providers to achieve enhanced patient monitoring and engagement.
Microsoft Cloud solutions like patient outreach tools, Patient Service Center services, virtual health, and patient portals help you provide your care teams with the support, innovations, and tools needed to provide advanced and personalized care management to patients.
The Microsoft Cloud for healthcare also provides virtual health services. This solution helps healthcare providers to improve patient care. It also allows customers of healthcare solutions to achieve remote patient monitoring and take the delivery of personalized care management service a step further. Care teams can offer high-quality, personalized, and affordable consultations via video conferencing, audio conferencing, and screen sharing.
WE ARE A TOP CLOUD COMPUTING COMPANY
Connect data from many systems to generate insights that can be used to anticipate health risks and enhance patient care, quality control, and operational effectiveness. Medical institutions can alter health outcomes by leveraging data-driven insights to enhance clinical judgment and improve patient experiences. Also, deploying Microsoft Cloud for Healthcare allows medical institutions to effectively coordinate management efforts between clinicians and administrators. Thus increasing operational efficiency. Furthermore, by making provisions for consolidating health information on a single, secure data platform, Microsoft cloud can make data governance and compliance easier.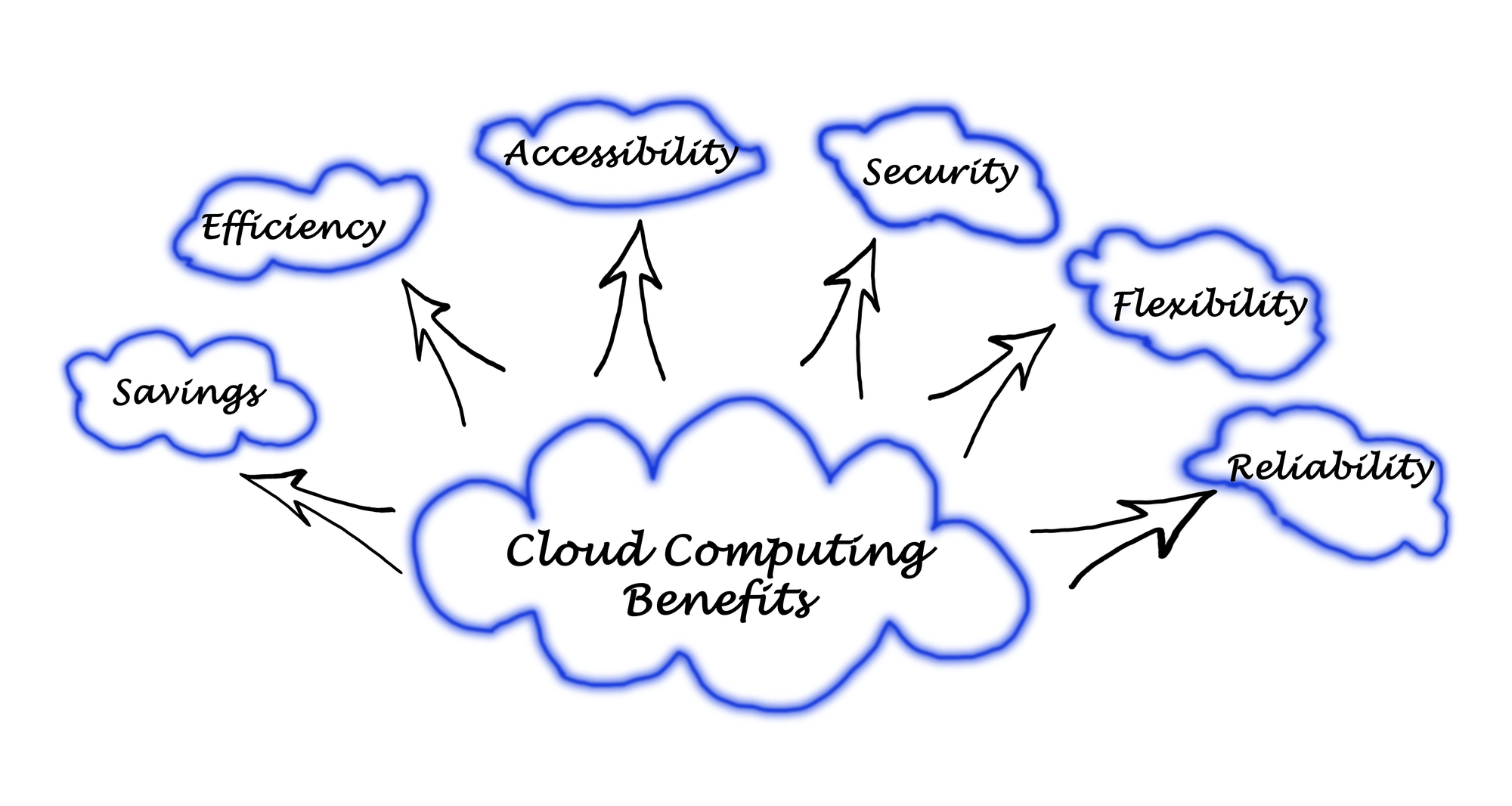 To fully understand how Microsoft Cloud for Healthcare help improve clinical and operational insights take a look at the following:
We all know that Microsoft cloud for health helps connect protected health data from different sources to help enhance patient care. But it won't hurt if we look into some solutions that make this possible.
Azure Health Data Services: this solution consolidates data that originating from sources like clinical, imaging devices, and unstructured data by relying on the Fast Health Interoperability Resources (FHIR) and DICOM services, as well as the Azure IoT Connector for FHIR. To get the depths of this solution, you may visit Azure Health Data Services for additional details.

Patient population dashboard (preview): This solution summarizes the significant indicators for different patient population categories. Assess the health of your patient population, customize the dashboards using Power BI for your organization's requirements, and effortlessly integrate these dashboards into your Dynamics 365 apps.

Another solution worth mentioning is Text Analytics for health.
COMPUTER VISION FOR HEALTHCARE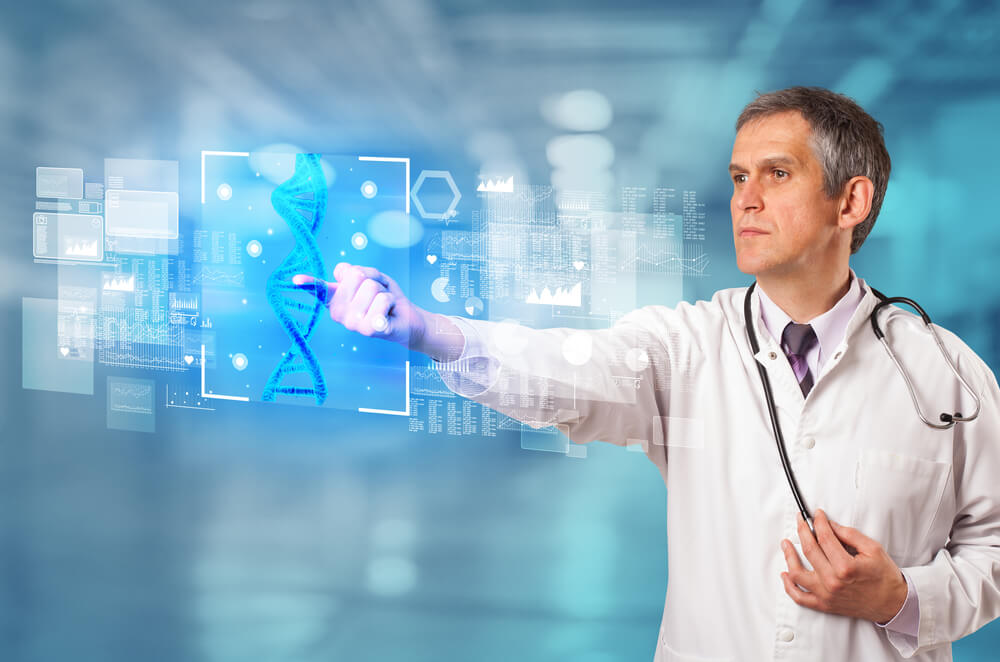 Microsoft cloud offers operational analytics using the following programs:
Azure Health Data Services: this solution allows customers to consolidate and regularize data originating from different channels like clinical, imaging, and unstructured data. This process is achieved using FHIR and DICOM services and Azure IoT Connector for FHIR.

Health Document Intelligence: this solution allows customers and partners to leverage Azure Form Recognizer to develop their solutions. This will allow them to extract data from medical papers and photos to automate and automate workflows, improve knowledge mining, and more. Check out What is Azure Form Recognizer to get more depth.

Provider Data Model: This tool is known as the HL& FHIR standard-based data model. And it accompanies all Microsoft Cloud for Healthcare solutions. It is also offered as an independent system on which other businesses can create or improve their medical applications.
EVERYTHING YOU NEED TO KNOW ABOUT CLOUD KITCHENS: PROS, CONS, AND TECH STACK
Microsoft cloud for healthcare offers medical institutions and care providers solutions that improve patient engagement. This is achieved by providing solutions that help them manage the plethora of patient data, improve communications, improve clinical and operational insights, and improve patients' health outcomes. Microsoft cloud for health also facilitates real-time data transfer between different services while ensuring end-to-end data security.
Data management solutions make it possible to integrate with Electronic Health Records (EHR) and Electronic Medical Records (EMR) systems to guarantee that health information is kept safe and available across all services.
PUBLIC VS. PRIVATE VS. HYBRID CLOUD COMPUTING
To begin with, the Microsoft cloud for healthcare provides solutions that allow caregivers to improve patient care by doing the following:
Make customized treatment routines

Supervise the care teams

Coordinate care management

Organize and schedule home visits

Manage care team members
CLOUD SERVICE MODELS EXPLAINED: PAAS VS. SAAS VS. IAAS VS. DBAAS

Additionally, care providers can adjust Microsoft collaboration tools to fit into their medical team's care management requirements. Furthermore, health institutions can utilize Microsoft cloud to sync a patient record from several other sources to achieve a holistic patient history that will offer the care team a complete picture of a patient's health.
WHAT IS A LIFT AND SHIFT CLOUD MIGRATION?
Set up and Configure Microsoft Cloud for Healthcare
Microsoft cloud for healthcare comprises solutions developed on capabilities within Microsoft Dynamics 365, Microsoft 365, Microsoft Azure, and Microsoft Power Platform. To set up Microsoft Cloud for your institutions, you must deploy these solutions on Microsoft Cloud Solution Center.
Microsoft's Solution Center offers a central location that allows health institutions and other partners to set up industry-specific cloud solutions, including those that are a part of Microsoft Cloud for Healthcare. To get started, the following requirement must be met.
Intending healthcare organizations and partners who wish to set up Microsoft Cloud for Healthcare must be a tenant admin, Dynamics 365 admin, or power platform admin.

Intending medical institutions and partners must have the requisite license for the Microsoft Cloud for Healthcare solution and app they wish to deploy.

Intending medical care institutions and partners must be aware of Microsoft Cloud for Healthcare's compliance standards and ensure strict compliance.
HOW THE HEALTHCARE INDUSTRY BENEFITS FROM HYBRID CLOUD SOLUTIONS
If you are considering deploying Microsoft Cloud Solution for your health organization, here is how to go about it.
Sign in to the solution center and click on solution > Healthcare.

Click on Quick view to learn more about the solution and the dependencies required to deploy it.

Select the solution you wish to deploy. After selecting your preferred solution, you will see two distinct types of deployment choices– Add and Go to set up.

Add: this option is available for solutions powered by Dynamics 365. The solution will be deployed in the background as the Solution Center walks you through the process. You can click here to learn more about this deployment option.
Go to set up: This feature is available for solutions powered by Microsoft 365 and Azure. Based on your preferred solution, you will get directed to the Azure portal or site for setup or the Microsoft 365 admin center. Click here to learn about this deployment channel.
Notwithstanding the deployment method listed above, some solutions will require configuration before they can be used. Others possess extra capabilities that you can set up to enhance the solution. If you wish to learn how to configure Microsoft solutions for the healthcare industry, click here.
READ ALSO:
EDGE COMPUTING EXPLAINED WITH EXAMPLES
CLOUD COMPUTING SECURITY RISKS, AND HOW TO AVOID THEM
Conclusion
Digitalization has made it a constant for health service providers to perpetually be on their toes if they wish to stay abreast with the latest technological innovations. However, Microsoft Cloud for Healthcare has stepped in to breach the gap by providing a platform through which medical institutions can provide personalized care management flow for their patients. By utilizing Microsoft Cloud for Healthcare, medical teams can access data from different sources, analyze them and employ the same towards achieving enhanced patient engagement.
In addition, patients do not have to go through the rigors of fixing appointments with their caregivers. Neither do they have to be subjected to the rigors of standing in long queues to meet their caregivers. Through the solutions offered by Microsoft Cloud, patients can now access virtual visits and book virtual appointments from the comfort of their homes.
CLOUD ELASTICITY VS. SCALABILITY: MAIN DIFFERENCES TO KNOW ABOUT
If you seek more guidance on integrating Microsoft Cloud solutions into your health systems, feel free to contact us. We will be glad to partner with you in achieving your business vision.