Check the first screen of your smartphone. What apps are installed there? I bet that there is at least one social media application that connects you with your friends, colleagues, and other social groups.
Over the past few years, the popularity of social networks increased rapidly. Besides, there are few entirely explainable reasons for that. Let`s take a quick look at the GlobalWebIndex research that shows key users` motivators: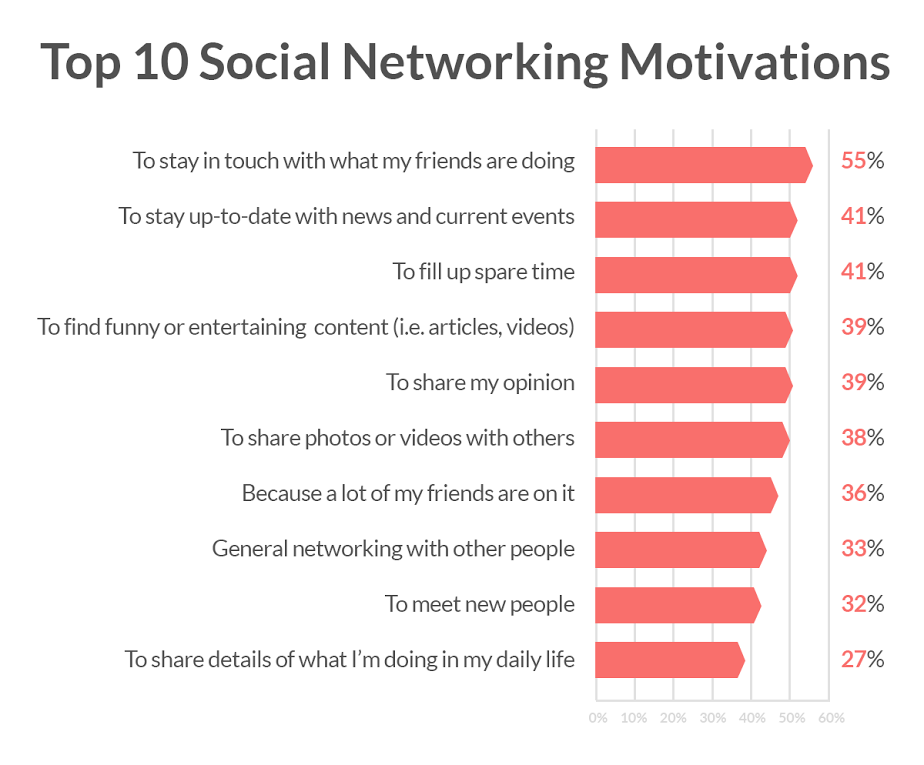 Also, the habit of using social networks has a huge impact that was studied in SNS survey. It turns out that the average user of such service has more close ties and keeps them up with social networks. Users get more support from their connections, wherein Facebook users are more trusting and have warmer relations than others.
Speaking about social networks, I mean both websites and apps, of course. It is hard to imagine the beloved social network that doesn`t have a mobile app for that. Meanwhile, the opposite situation is quite natural and Snapchat is a great example for that.
According to Gartner statistics, there will be more than 2.95 billion social network users till 2020.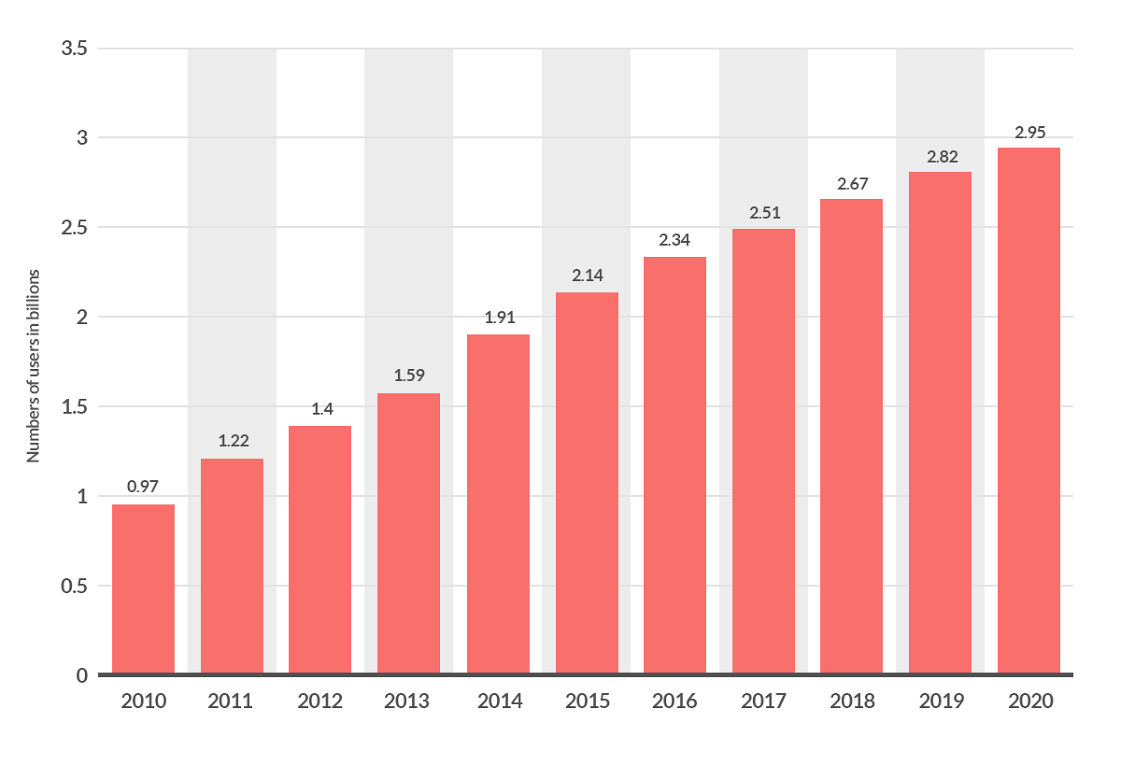 Though there is an interesting insight, you need to keep in mind before rolling up you sleeves. The latest trend shows, that the social media goes private. Namely, the users share their thoughts and bring their activity in small thematic groups and charts. It opens up entirely new possibilities for niche social media apps.

This trend led to an increase in demand for applications for communities and social groups among our clients. That is why we came up with the idea of creating a universal solution that could help our clients to build such app regarding limited budget and time. However, at the same time, we want to deliver unique products to every our customer. So the idea of Group App Solutions was born.
Communication is going online and what about your community?
Regardless the type of community, be it non-profit organization, church, college, business company or neighborhood, we are here to help you.
Basically, our apps consist of modules that were made by the experienced team of 30+ iOS and Android app developers. You can pick up those features that you need, customize the design and start to use an app and spread it among your community.
We have gathered all essential features that any social network may need:

Newsfeed
Newsfeed makes the biggest difference between the social media app and messenger. Users can publish news, life updates and share their thoughts. Also, they can follow and curate the news of other group members. This feature gives the feeling of being in the thick of things and self-awareness as a part of a community.
Messenger
This feature brings more privacy to your group members' communication.
It includes instant direct messaging and creating group charts as well as creating profiles and contact lists.
Read more about the messenger app development.
Inbuilt payments
If you want to provide donations and membership fees in your community app, we can integrate trusted gateways payments with such systems like Paypal or Stripe.
Read also: How do free apps make money?
Event planning tools
For sure, your community will have some events. Bring them digitally and coordinate everything in the application. We can provide you with all necessary event-planning features that are to be in every app. For instance, you and your users can create pages about events, invite people there, put notes in a great calendar, plan and schedule activities.
Marketing tools
Last, but not less important feature is about retention of your users and keeping the virtual dialog going. We can endow your app with such basic marketing kits as push notifications and ad tools to create target campaigns.
The most impressive thing behind all these features is the price. As far as it consists of prebuilt modules, it helps you to save decently and get the solution you want in short time. Also, in every app, you can add other custom features that we can build yours from scratch.
Note, that our solution is not the same as do-it-yourself app builders. In fact, the difference is huge. In DIY builders there is always a clash between components of app and platforms, you cannot customize your design and UI/UX. In our case, all modules were built from scratch to perform certain tasks and shaped particularly for the community apps. Also, we can bring your brand identity to the app and customize logos, colors, shapes of figures, etc.
The price is starting from $1499 per year without any recurring payments.
And there is so much more!
Besides all over above, there are also few more things that we can provide to your service:
Landing page
To provide you with an additional promotion channel for your app, we can create a landing page with a free custom domain.
It can contain all necessary information to your group, FAQs, keep links to Apple Store and Play Market, help to spread the information about your application.
CMS
To moderate a content of your application, add, move, and delete information we ensure all our apps with a web-based system of content management. This means that you don't get just a static app with any ways to improve it, but an app that can evolve together with your group.
Analytics set up
Our marketing team is ready to set up all analytics to your application and provide all stats information. That's mean that you can control acquisition and retention and measure other fundamental metrics.
Publishing
Our team also supports you with publishing an app in the app store with our company`s profile or we can use yours. We are also to provide our experience in app store optimization and a creation of marketing promotional materials.
24/7 support
Speaking about 24/7 support we mean both customer help and communication and assistance to the end user of the application.
Security
We follow high standards of security with all our clients. That is why we guarantee that your user's data will be protected and secure.
This is how we do it
App creation has never been so easy and fast as with our pre-built solution. All you need to do fits in three easy steps.
Step 1. Planning
Contact our managers via chart request a call. They would be happy to help you to clarify your idea, choose all necessary features and tools and estimate a price. You can also order the consultation of our business analyst to study strength and weaknesses of your idea and competitors field.
Step 2. Building and Customization
As I told you before, the solution consists of ready-made blocks. Every block can be a bit modified and customized according to your idea and app specific. You get for these needs 20 hours of our developers.
Also, don't forget that you can order some features that are not envisaged in the base set, and we will build them for you from scratch for an extra cost.
Step 3. Polishing design
Bring even more customization to your app with the help of our professional UI/UX designer. With our solution, you don't need to pick a fixed theme. You will have a complete session with our designer and UI/UX expert, where you can explain your ideas and thoughts. After that, they will create an entirely unique application. It means that the application is rather completely designed for your needs than just customized.
Takeaway
For little money you get an app with all features and options, and you can start to use it right in a month. For the reasonable price, you are going to get an app that was developed by highly qualified experts with a robust stack of cutting age technologies.
We include all mentioned above services and tools by default. So, we don`t require any additional payments. To check the solution, please, request for a demo.