I like cooking. I don't cook often, but when I do, I want to make something special. And meal kit food delivery companies are the best choice for people like me. Meal kit services, especially subscription-based, are quite popular. 17% of adults between 25 and 44 currently receive meal kit delivery services in the U.S.
If you want to see the bigger picture of the growing fresh-food meal kits in the United States, here are some figures.
The global meal kit delivery services market size was valued at USD 15.21 billion in 2021 and is expected to witness a compound annual growth rate (CAGR) of 17.4% from 2022 to 2030? according to Market Analysis Report.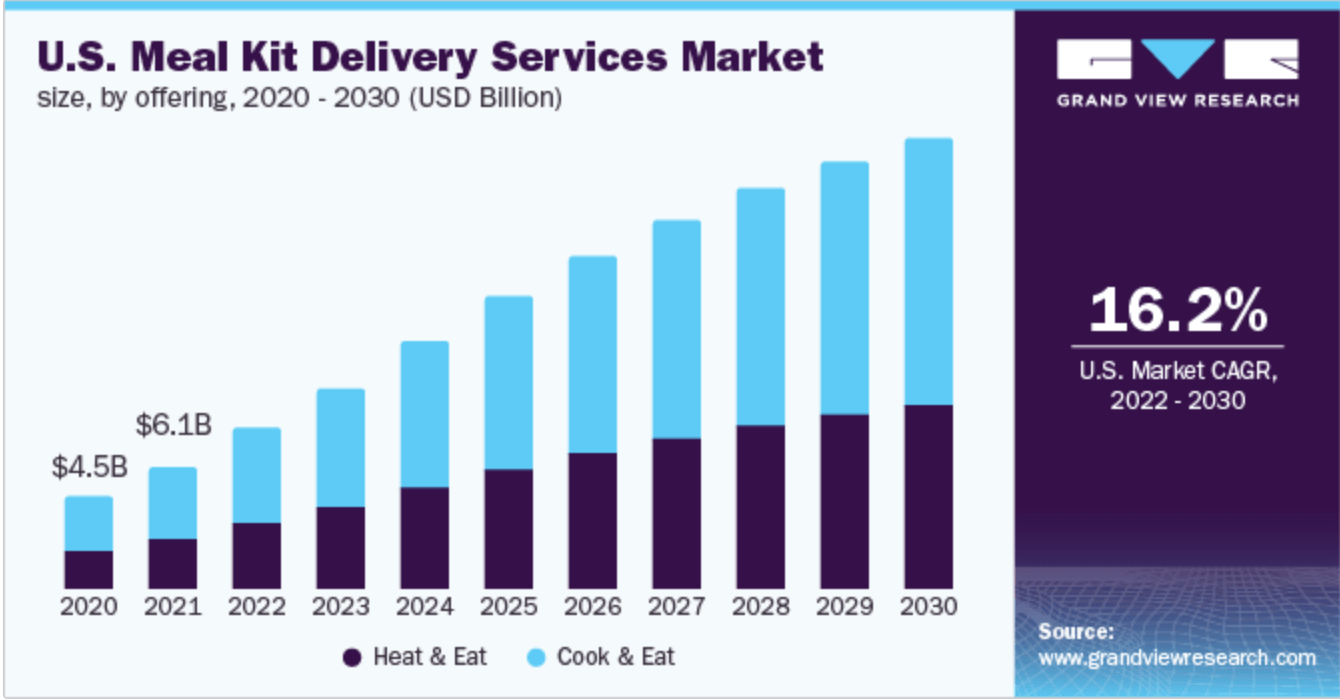 The online segment dominated the market for meal kit delivery services and accounted for the largest revenue share of 63.2% in 2021. The offline platform is expected to register a CAGR of 17.8% in the market for meal kit delivery services from 2022 to 2030.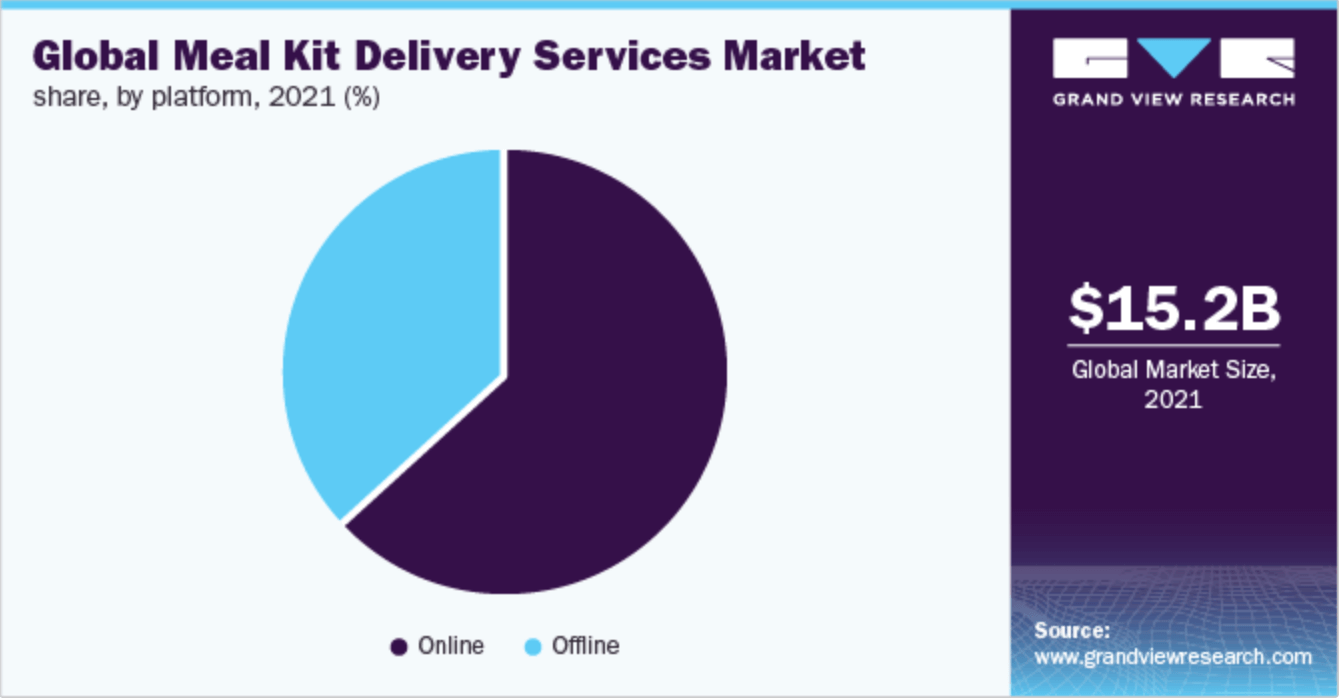 But wait, why is it so popular?
The answer is because people want to eat healthy homemade food but have no time to go to grocery stores or supermarkets. For such people, it is more convenient to pay a company that will deliver fresh ingredients and recipes.
Below, you will find a ready-to-market strategy for starting a meal kit business in your neighborhood. By following the steps described below, you can create your own meal-kit business, find unique sales propositions, and even develop a website or mobile app.
BALANCING THE SUPPLY AND DEMAND WITH AN ON-DEMAND GROCERY DELIVERY APP
What is a meal kit subscription service?
The idea behind a meal kit delivery business is simple yet smart. Such companies deliver pre-packed, and sometimes partially-prepared food ingredients with a book of recipes right to your doorstep. Meal kits already include all the ingredients to cook a dish. You can use ingredients and recipe cards to cook a meal within 30-40 minutes. So, you no longer stress that you forgot to buy milk or sugar, preventing you from cooking.
Meal kit delivery business: history and numbers
Now, let's make a quick overview of the meal kit industry, key figures, and issues meal kit business owners face.
The concept of meal kit delivery appeared in Sweden in the late 2000-s. This business model became popular and quickly spread to other Northern European countries. In 2012, meal kit delivery companies from Europe, such as Blue Apron and HelloFresh, entered the U.S. market and became popular among Americans.
In 2017, there were over 150 meal businesses in the U.S., and the meal kit business industry was estimated to reach $2.2 billion globally. Experts predict that in 2020, the meal kit business will make up 1.3% of food and beverage sales.
Such growth of meal kit popularity concerned supermarket owners, who started to lose customers and income. In response, supermarkets began to make their own meal kits and sell them at their physical stores.
Despite a rapid increase in customers, most meal kit business owners faced a low customer retention rate.
New customers tried free meal kits from companies and never used this service again.
Most customers used the meal kit service for just 5-8 weeks.
Around 6-12% of customers continued using their subscription after 3 months.
Thus, you need to concentrate your marketing activities on retaining your customers.
Now, let's find out how the meal kit delivery business makes money.
STAGES OF LOGISTICS MOBILE APP DEVELOPMENT
How meal kit delivery business model works
Most meal kit delivery businesses operate on a subscription basis. This means you pay a weekly, monthly, or annual service fee, and then, receive pre-packed meal kits and recipe cards. For example, let's look at the HelloFresh business model.
This most popular meal kit delivery service charges $7.49 in shipping fees. Five recipes per week for two persons will cost you $89.90.
To attract new customers, the service offers discounts. So, if you visit the HelloFresh website for the first time, you will receive -$22.01 discount, and five recipes per week for two persons will cost you $67.89, while you save -$22.01 on deliveries.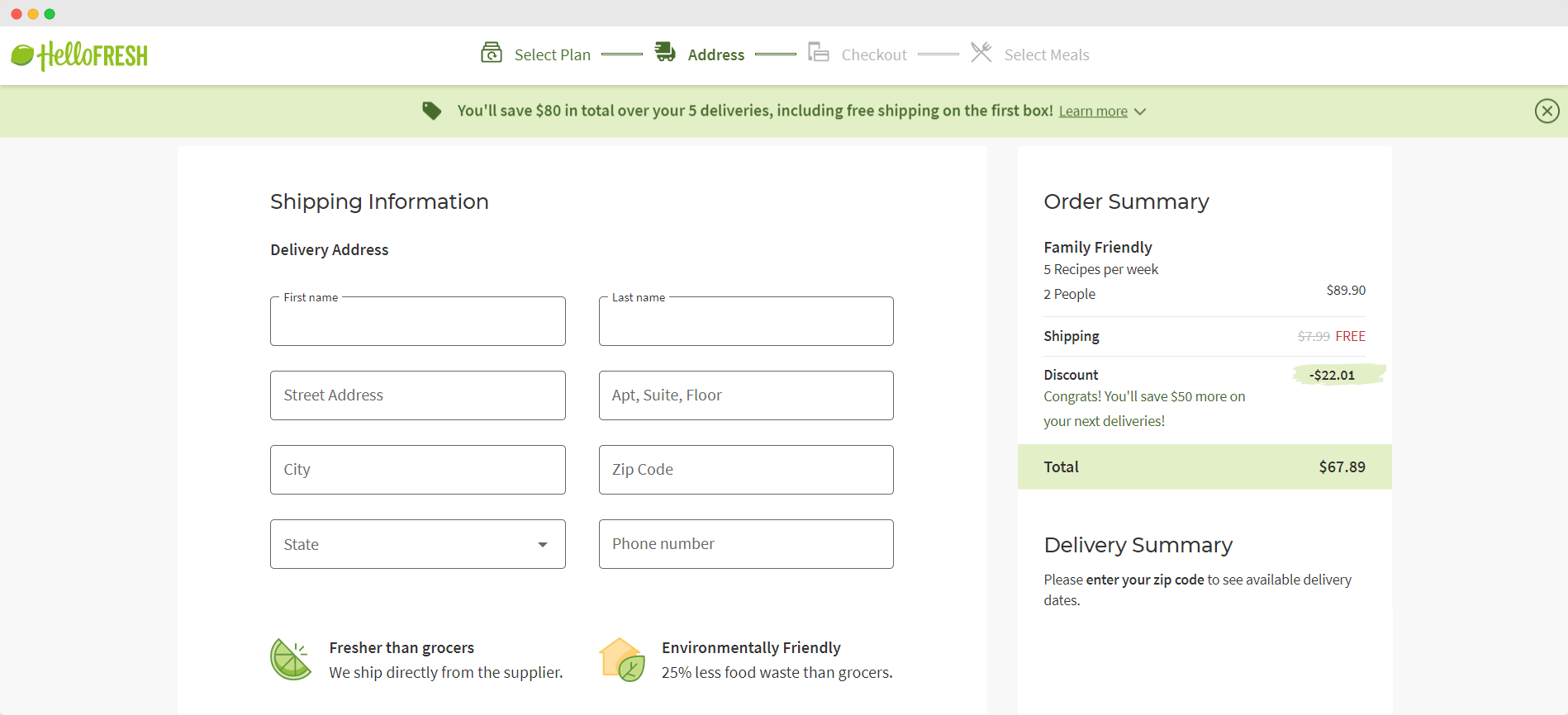 HelloFresh offers four types of weekly menu:
Meal and Veggies
Veggies
Family and friends
Low calories menus
The company changes the menu for each meal category every week in order to increase the customer retention rate. As a customer, you will receive new meals each week, thus never get bored eating the same food.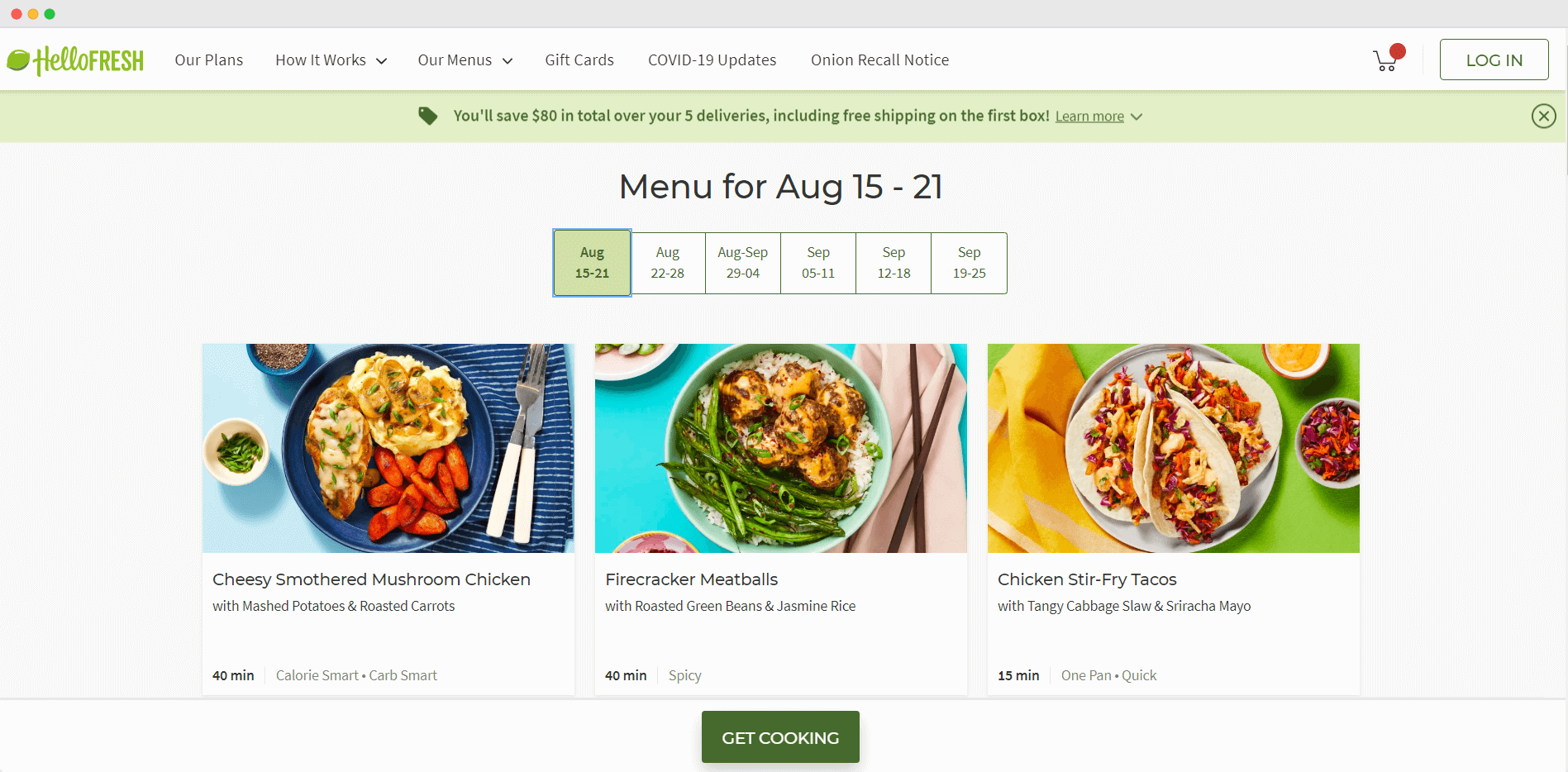 If you want to skip one week, you can unsubscribe weekly delivery without paying any penalties.
Now, let's see what you need to do to start your meal-kit business.
HOW TO BUILD A FOOD DELIVERY APP LIKE UBEREATS
The APP Solutions Experience: Success Story
Alfred Ibiza is an on-demand delivery mobile app that connects restaurants, stores, couriers, and customers in Ibiza. The app allows customers to order from restaurants, pharmacies, and supermarkets, listed on the platform.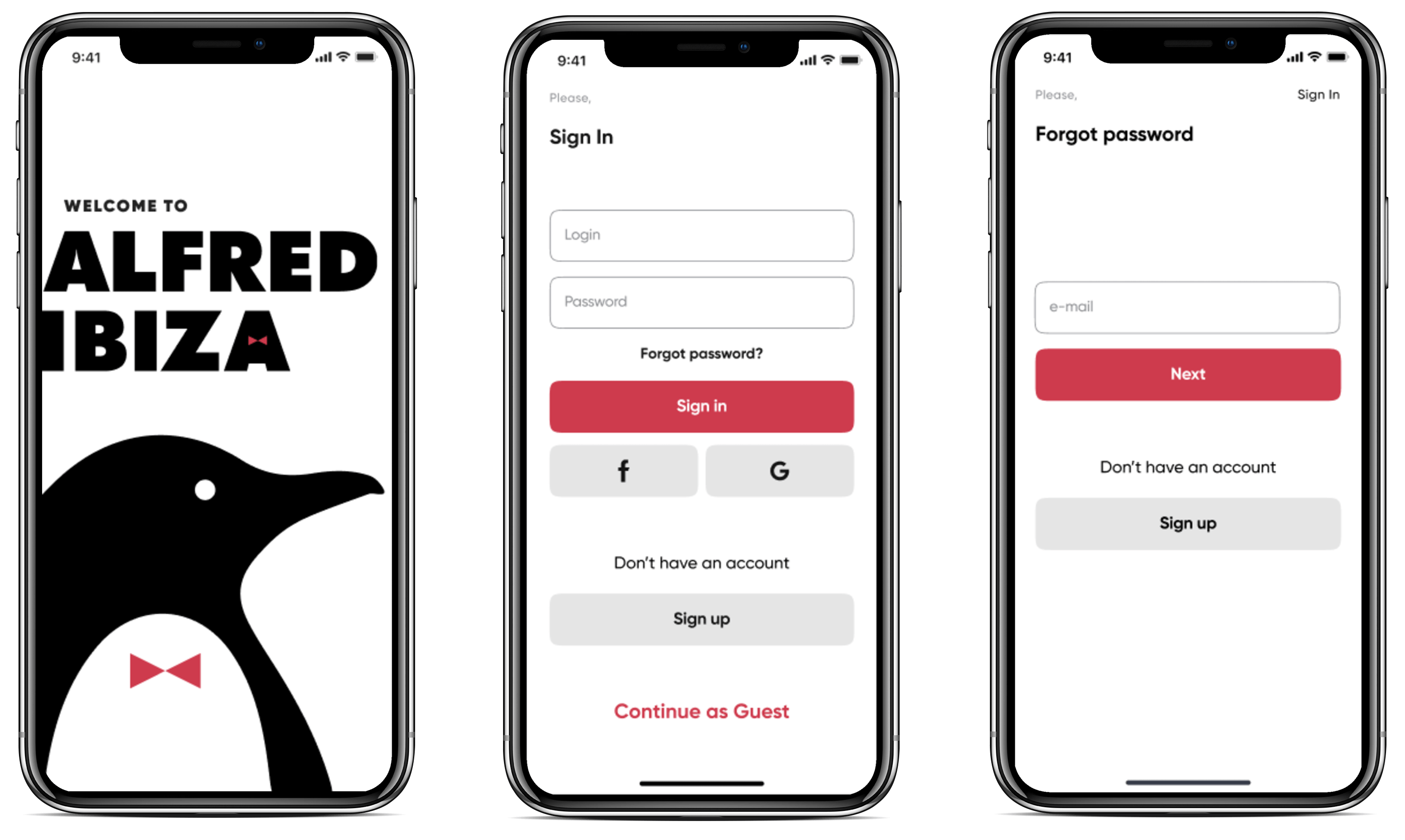 Our main goal for the Alfred Ibiza project was to build a platform that would simplify ordering and delivering products on Ibiza island and help party goers to receive their orders on time. We wanted the platform to be equally useful for business owners, couriers, and customers.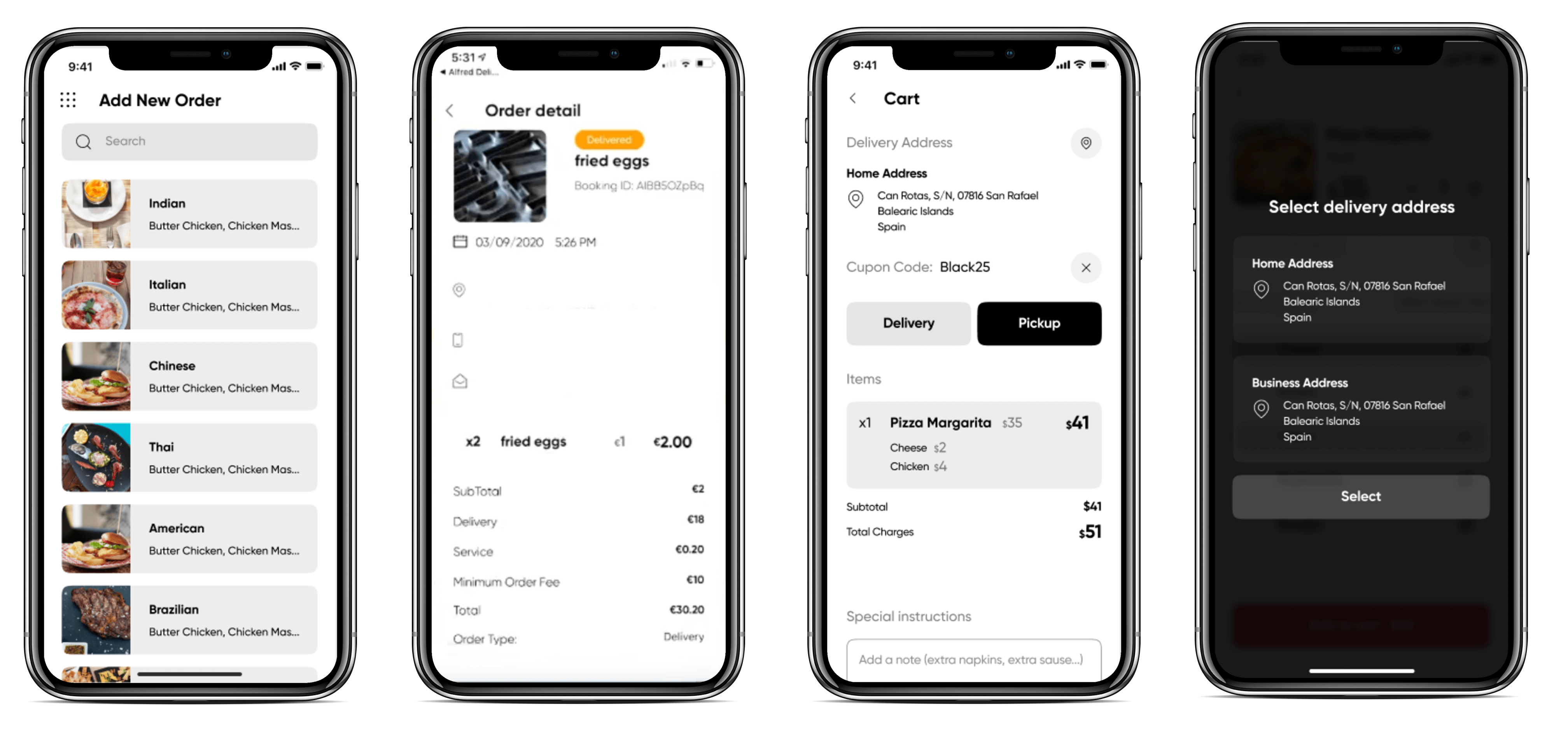 We managed to develop the Alfred Ibiza platform within just three months, at a total project cost of $70,000, 50-60% cheaper than the average development cost of a food delivery app.
The platform includes an app for customers, couriers, an admin panel for restaurants with only necessary functions. Besides this, we also developed a marketing landing page to promote the Alfred Ibiza platform.

You can find more fascinating stories in our portfolio.
WHAT TECH STACK TO CHOOSE FOR YOUR PROJECT
Launching meal kit delivery in 5 steps
You can launch an ingredient and recipe meal kit service even without significant investment. However, starting a meal kit delivery startup still requires some operations as listed below.
Step 1. Get Legal Licenses
The first thing to do when launching a meal kit delivery service is to get all the licenses and prepare other legal documents from your government.
Below, we list essential legal documents for U.S. citizens.
To open and operate your business in the United States, you need a business license that legitimizes your company as a legal entity. Each state has its regulations for issuing business licensing and related fees that could be a flat rate or a percentage of your total sales.
To get a business license, search for your state + business license on Google search. Then, follow the application procedure on your state government's site.
You'll need to pay approximately $50 for the registration and $25 to $7,000 for the license. The total cost will depend on your business type and expected profit.
Don't forget to renew your license each year and pay for it on time.
Employer Identification Number (EIN)
EIN, a tax ID number, is the document you need to get from the Internal Revenue Service (IRS). You can apply for an EIN through the IRS website. You can also apply by fax, phone, and even mail. But don't expect immediate results. The IRS only issues one EIN per day. The good thing about EIN is that it is free.
You can receive a food service license from the city or county health department. The health department will inspect the place where you are going to make meal kits to check out whether your business complies with all restaurant food safety regulations or not.
To receive this license, you need to apply to your local health department via the internet or in-person. During the application process, you need to give the name of your food service, an address for a permanent kitchen facility, and the owner's personal information.
A food service license cost varies from $100 to $1000 depending on your location and number of employees.
Now, it is time to analyze your competitors.
Step 2. Analyze competitors
By knowing your competitors, you can make a bullet-proof business plan.
Let's analyze the biggest food kit services in the U.S., such as HelloFresh and Blue Apron, with half of the whole U.S. meal kit market share.
HelloFresh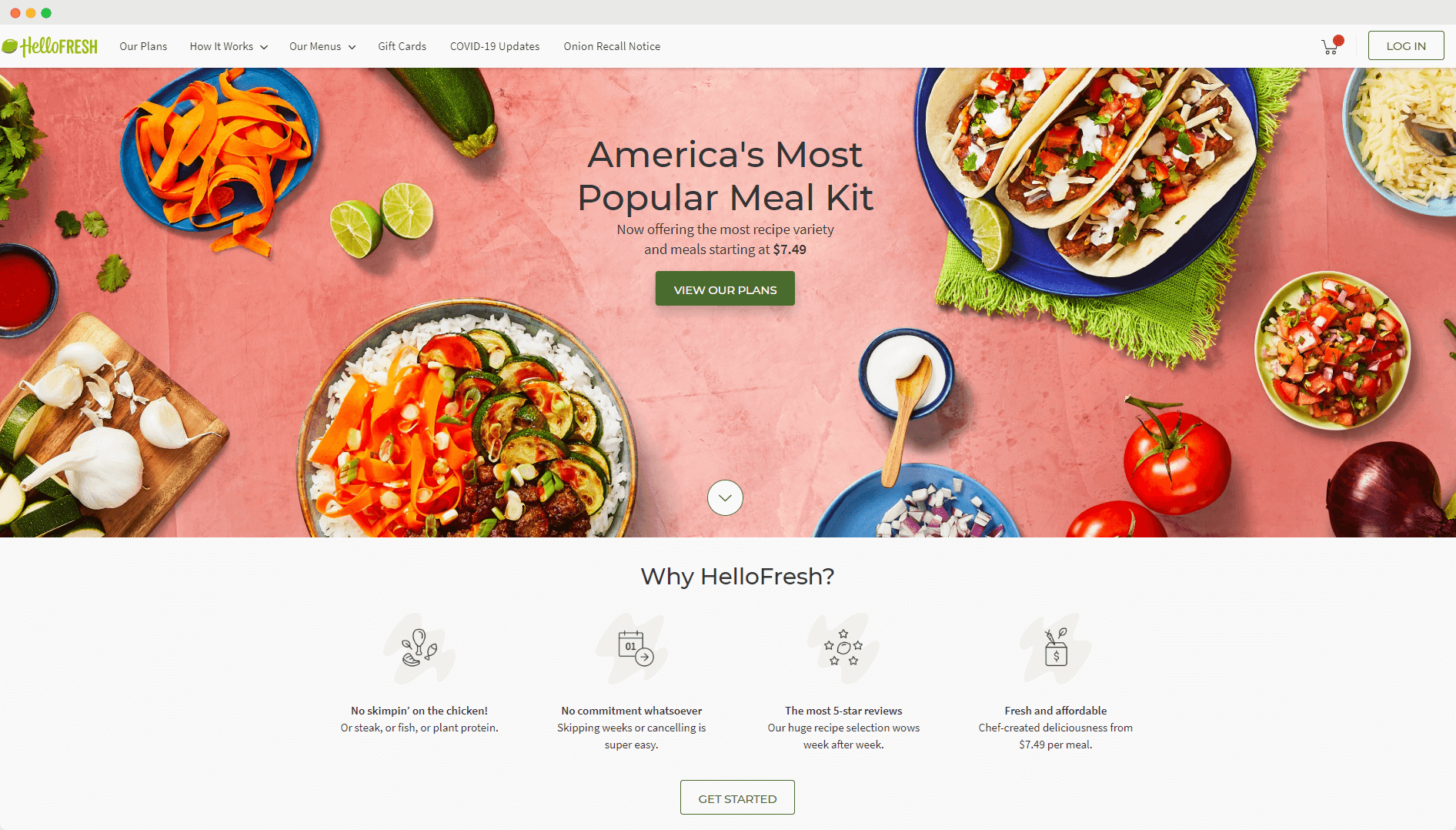 HelloFresh was launched in 2011 in Berlin. Now the company has 850,000 customers and operates in nine countries across three continents. Its 2,000 employees work to deliver 9 million meals a month.
The reason for such success lies in HelloFresh's business model. The company delivers groceries right from farmers, cutting out all the middlemen, such as supermarkets and grocery stores.
In such a way, using HelloFresh meal kit delivery is 75% cheaper than shopping for ingredients at grocery stores.
In 2017, HelloFresh, together with other meal kit services, was criticized for using wasteful packaging and viewed as environmentally unfriendly.
Since 2018, the company has tried to reduce food waste by keeping and preparing ingredients in the appropriate proportions.
Blue Apron Inc.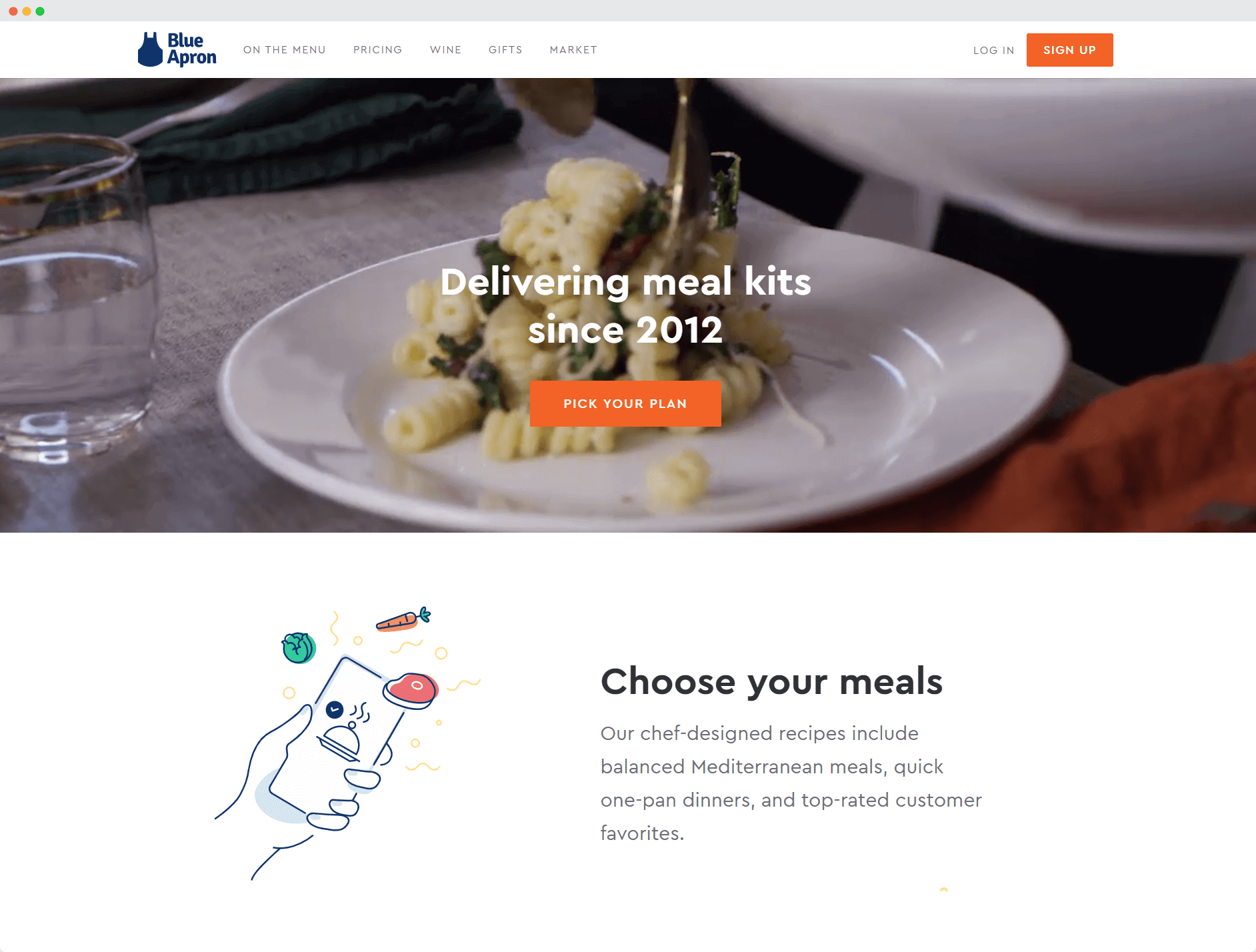 Blue Apron has operated in the United States since 2012. The most successful year of Blue Apron was in 2017 when the company received $881,19 million. But, with time, the company's income has decreased.
In 2019, the company generated $455 million global net revenue, down from $668 million in 2018. Currently, the company receives 2,482 orders per month, with a $258 average revenue per customer.
In 2017, the company also received extensive criticism for wasteful packaging. In response, the company has tried to limit environmental impact by using recyclable ice packs and packaging. Besides this, BlueApron has a portion control that calculates the portion of ingredients to reduce food waste.
Step 3. Build your brand
Since you are serious about opening a recipe kit delivery service, you need a unique sales proposition (UCP). In plain words, you need the answer to the question, how you differentiate from other meal kit companies.
Below we gathered several ideas on how you can differentiate from your competitors.
Since your competitors were criticized for being not eco-friendly, you can turn this into your advantage. Moreover, the continually growing number of eco-friendly and environmentally aware people only proves that this is a win-win idea.
You can implement this UCP by selling veggies from local eco-farms, packaging meal kits in eco-packages from recycled cardboard, and delivering your meal kits in an eco-friendly way – exclusively on bicycles.
Your menu can include meal kits for special occasions, such as birthday parties or outdoor activities with friends.
In a B' day meal kit, you can include only recipes that take about one hour to cook. This is a great idea because most of us believe that you need to spend at least 3 hours to cook something for your guests.
As for outdoor menus, you can deliver meal kits to individual's homes and nearby locations where people make barbecues. Thus, your meal kits can include mushrooms, sausages, corn, cabbages and steaks for the best outdoor party.
You can turn preferences in food and cultural differences into your unique sales proposition. For example, your menu could include gluten-free ingredients. Another option is to sell kosher, vegetarian, or halal meal kits to locals.
FUNCTIONAL VS NON-FUNCTIONAL REQUIREMENTS: MAIN DIFFERENCES & EXAMPLES
Step 4. Gather meal kit recipes and find suppliers
Once you know the core mission of your meal kit business, it is time to gather recipes that will reflect it.
You can rate recipes with stars by the level of their complexity. For example, meals that are easy to cook will have one star, and the most complex – five stars. Don't forget that you need to gather as many recipes as possible, so you can change the weekly menu and always surprise your customers.
During this step, you also need to think about where you will get ingredients. Thus, you need to find grocery and meat suppliers among local farmers and vegetable warehouses.
Step 5. Develop a meal kit app or a website
For selling and delivering meal kits, you will need a mobile app or website that will charge your customers' subscription fees and send you their details. We already have an article on how to hire the development team, so check it out.
Once you select the development team, ask them for a quote. If you will develop your project with us, the software development process will look like this:
Pre-sale
You fill in the contact form, and our business development managers get in touch with you to clarify your requirements for the project and send NDA (a non-disclosure agreement). Next, a business analyst analyzes your requirements, breaks your project down into modules and features, and sends it to a developer for an approximate estimation of your project.
After you agree on this estimate, we will start the Discovery phase.
Discovery phase
We need around 1-3 weeks to create a technical specification for your project. We also suggest the app's or website's architecture, mockups, and even clickable prototypes of the main project screens during the Inspection phase.
Project initiation
Once you have a project specification at hand, we will develop more detailed project development costs. After we agree on the project costs and essential features to implement first, we will send you an agreement to sign. Then, we will arrange a small video call to introduce you to our team. The typical team composition includes developers, project managers, quality assurance specialists, and designers.
Project development
Next, the team will break-down all project features into iterations to schedule the project development process. One iteration length is 1-2 weeks.
Once the new functionality is implemented, QA specialists test it, find bugs, report to the project managers so that the developer can fix the bug.
Then, the developer deploys the code to the project's prominence, with the rest of the projects developed parts.
During the project development process, we send you reports every two weeks. In such reports, we explain how much work was done, and what features the team is going to implement next.
After the team implements all features, we will run the final demonstration session for you, and give all accesses to your project so that you can manage it without external help.
HOW TO MAKE AN APP: LIFE CYCLE OF MOBILE DEVELOPMENT
Launching an online meal kit delivery business: the final word
The meal kit delivery services industry is a very prospective niche for investment since it is expected to grow in the next few years. At the same time, to start a food and recipe delivery business, you do not need significant investment.
There are only two main objects of expenditure – receiving necessary licenses and web or mobile app development. At the same time, you can create unique sales propositions, write a business plan, gather recipes, and find suppliers without hiring extra specialists.
What our clients say