The COVID-19 pandemic has brought numerous challenges to the healthcare system across the globe, including a lack of medical equipment, beds, and personnel to provide adequate care to patients. At the same time, the global transport lock-down and the threat of being infected in crowded places, such as waiting rooms in hospitals, has made offline consultations with medical specialists almost impossible.
The bright side is that crises bring great opportunities for innovations, making telemedicine software no longer just something nice-to-have, but instead, a must-have for private clinics and healthcare organizations.
There are two ways you can implement a telehealth solution to your medical practice. In our previous article on how to develop a telemedicine app, we talked about developing such software from scratch. But, if you have a lack of time and resources for developing telehealth apps, do not despair, you still have an opportunity to leverage a ready-made telemedicine app and provide medical consultations via video, while paying affordable subscription fees.
In this article, we will share handy tips on how to narrow down your needs and wants on a platform and select the most suitable telemedicine app for doctors from the number of solutions on the market. We also review five telemedicine platforms in terms of security, features, and pricing.
Essential telehealth features to pay attention to
The choice of the right telehealth platform will significantly influence not only the quality of video connection, but also the loyalty of your patients, the time you save on manual data input, and the security of your patients' sensitive data. Below we've listed features we believe are most important to telehealth technology selection.
Regulation compliance on data security
Different countries have different data security policies for storing patient-sensitive data. There are HIPAA, PHI, and HITECH regulations for the United States, GDPR, and The Data Protection Law Enforcement Directive in the European countries, The Data Protection Act (DPA) in the United Kingdom, and the Personal Information Protection and Electronic Documents Act in Canada. All of these regulations concern saving patient data on mobile devices that could be lost or stolen. Thus, to avoid million-dollar penalties for patient data breaches, pay extra attention to data encryption and regulation compliance for your telehealth vendor.
STEP-BY-STEP GUIDE ON MOBILE APP HIPAA COMPLIANCE
Business association agreement
A Business Association Agreement is an integral part of adopting telehealth software to your practice. The BAA ensures that the platform does not record your sessions with patients. Also, the agreement includes specified conditions of how your telemedicine provider will store and care for your patient information on their servers. Thus, you need to find a telehealth platform that will sign a BAA with you without hesitation.
Video calls
Video appointments are an essential feature of most telemedicine software. Be aware that the platform should have secured video streaming of high quality. We also think that screen sharing features, and secure group calls with other medical professionals or patient relatives will be handy for complicated cross-disciplinary cases and bring more value to your patients' treatment plans.
TELEMEDICINE VS. TELEHEALTH: A COMPREHENSIVE GUIDE ON THE DIFFERENCES & BENEFITS
Instant messaging
The platform should include instant messaging and file-sharing features to enable communication with patients before or after a video appointment. If your practice requires a connection with medical specialists from other departments, consider telehealth software that includes a group chat feature that follows all regulations on data security in your region.
Virtual waiting room
Often, medical consultations may take longer than expected or a patient may be late. Your telehealth solutions should include a virtual waiting room to avoid mismatching on electronic lines. This looks like a landing page where patients can wait for their digital appointment to begin. Such a virtual waiting room shows your patients their place in line, and the estimated time for when their video consultation will begin. You can customize such a waiting room by adding information relevant to your practice, such as notes for patients, educational articles, videos, or infographics. From your side, you can see the number of patients waiting in queues sorted by the time they entered the waiting room. Thus, you can easily estimate your time and effort and provide high-quality consultation to each patient.
HOW TO MAKE EHR/EMR EPIC INTEGRATION WITH YOUR HEALTH APP
Technical support
The telehealth software provider should understand that you trust them with your business, and any technical errors or downtimes impact your practice and income. Thus, the telemedicine vendor should provide you with technical support during your working hours and be able to solve any issue via online-chat, video calls, or at least via email.
Onboarding and demos
Adopting new software is always a challenge, especially for non-tech people such as medical specialists. That is why video demonstrations, staff training, and learning materials by telehealth platforms are essential. The sooner you and your medical staff learn how to use the software, the faster your medical organization will start providing video consultations to patients.
AGILE HEALTHCARE: HOW TO IMPLEMENT THE APPROACH
Telehealth cost
Depending on your healthcare organization's size, you need to find a platform with the most suitable pricing. Thus, when selecting your telemedicine platform, consider that some providers charge different fees. Some of them charge a monthly-based subscription fee (from $30.00 to over $900.00), while others apply a per-consultation pricing policy. Also, the telehealth platform's subscription fee may depend on the number of medical specialists in your organization. On average, the costs vary from $75.00 to over $150.00 per organization. Thus, to avoid paying extra fees, select the platform with the most comfortable pricing policy for telemedicine services.
Integration into the existing ecosystem
If you use EHR, EMR, or another system to keep track of your patients' records, ask a platform's salesperson whether their telemedicine solution could be integrated into your existing ecosystem. At this stage, also consider that such an integration is a job for professional web developers because not all platforms provide a dedicated development team to integrate telemedicine into your working environment. Another vital feature to ask about is an online payment gateway and electronic billing to send invoices to your patients and enable them to pay with their credit cards.
KEEP A PULSE ON EPIC APP ORCHARD AND HOW IT BENEFITS THE HEALTH SYSTEMS
Now that you know about the essential features of your telemedicine software, let's find out more about solutions currently presented on the market.
Related reading:
Calmerry Telemedicine Platform Case Study
Nioxin Consultation App for Coty-owned Brand Case Study
5 Best telemedicine software solutions overview
Our clients often ask us to integrate telemedicine software into their existing environments. While some clients have several solutions in mind, others ask us to do market research and find the best possible option. Below we have gathered reliable telemedicine software companies our clients chose for their practice.
Doxy.me
Doxy.me is a HIPAA-compliant telemedicine software, available for web, iOS, and Android platforms for running video appointments with patients. Thus, to use Doxy.me, you don't need to download it to your device or desktop, and the platform does not store any information about your patients. The platform has a point-to-point NIST-approved AES 128 bit encryption along with SHA256 used for all video & audio communication and encryption and 256-bit AES encryption used on all data stored at rest with secure backups. Doxy.me has a full-set of telemedicine features, including video calls, text messages, voice calls, and waiting rooms, secured over TLS (HTTPS).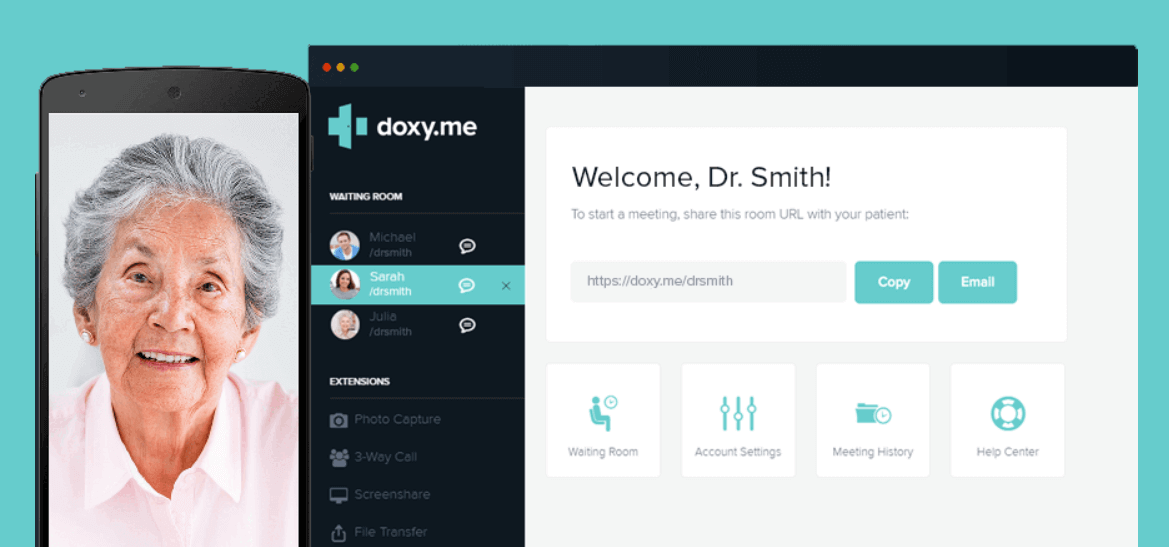 [Source]
The platform has a separate section for Business Association Agreement, where you can add information about your organization, its members, and upload a signed agreement. Doxy.me has numerous learning materials on its Youtube channel, but person-to-person training sessions are also available.
Doxy.me has a free version and two paid tiers. With the free version, you receive a full set of telemedicine software features, including
Personalized room URL
Unlimited number of sessions and minutes
Video calls
Text chat
Meeting history
Patients queue
Waiting room
Online help pages and email support
Free Doxy.me version is your perfect choice if you want to try the platform before paying a monthly subscription.
FEMTECH IN HEALTHCARE: HOW TO MAKE IT EFFECTIVE
As for paid plans, Doxy.me has two options.
For individual providers $35/month
Clinic providers from $50/month
Paid versions offer more advanced features, such as
Room passcode
Edit waiting room
Text & email notifications
Payments
Group calling
Screenshare
On-demand chat with a technical support team
And others. You can see the full paid feature list at the official Doxy.me website.
comjoodoc
сomjoodoc is an on-premise platform, which means you can run it on your physical hosting server. It includes a set of communication tools to integrate depending on your needs. Mainly, the platform serves the German region. Thus, it meets all the regulations of European data security, including GDPR. But soon, сomjoodoc will also be HIPAA-compliant. The platform's security package includes anonymous personal data, end-to-end encrypted real-time communication, and encrypted data storage.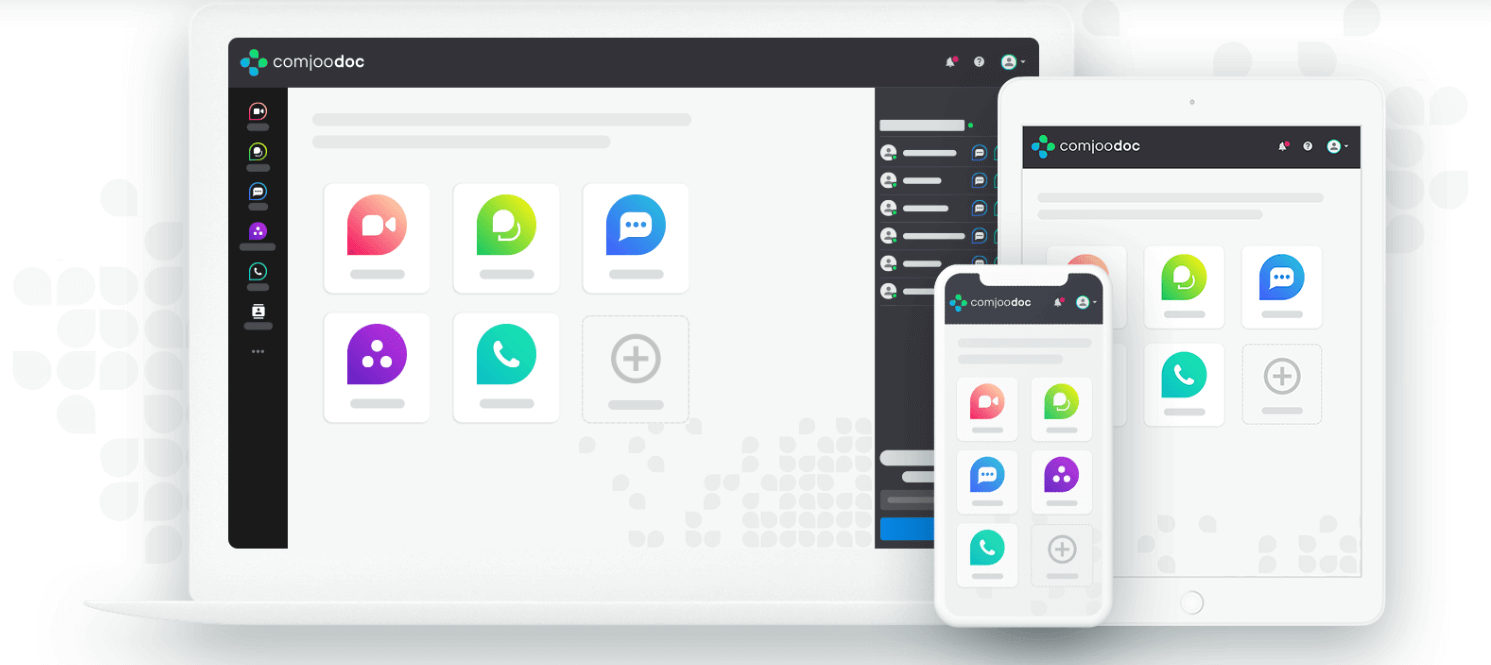 [Source]


сomjoodoc offers a set of tools not only for video appointments with patients, but also for creating a networked collaboration with other medical specialists.
Meet for secured video appointments with patients or group video conferences with other medical specialists via a web application
Call for voice calls via telephone systems, smartphones, tablets, or laptops.
Chat with a secured message exchange among your patients or medical specialists network, appointment confirmations, and so on.
Community for topic-specific group chats with other medical specialists
Data for secured file exchange only with authorized users.
Easy patient mobile app for video consultations and text chat, the transmission of appointments, vital signs, well-being, medication plans or laboratory results, digital prescriptions, or disability certificates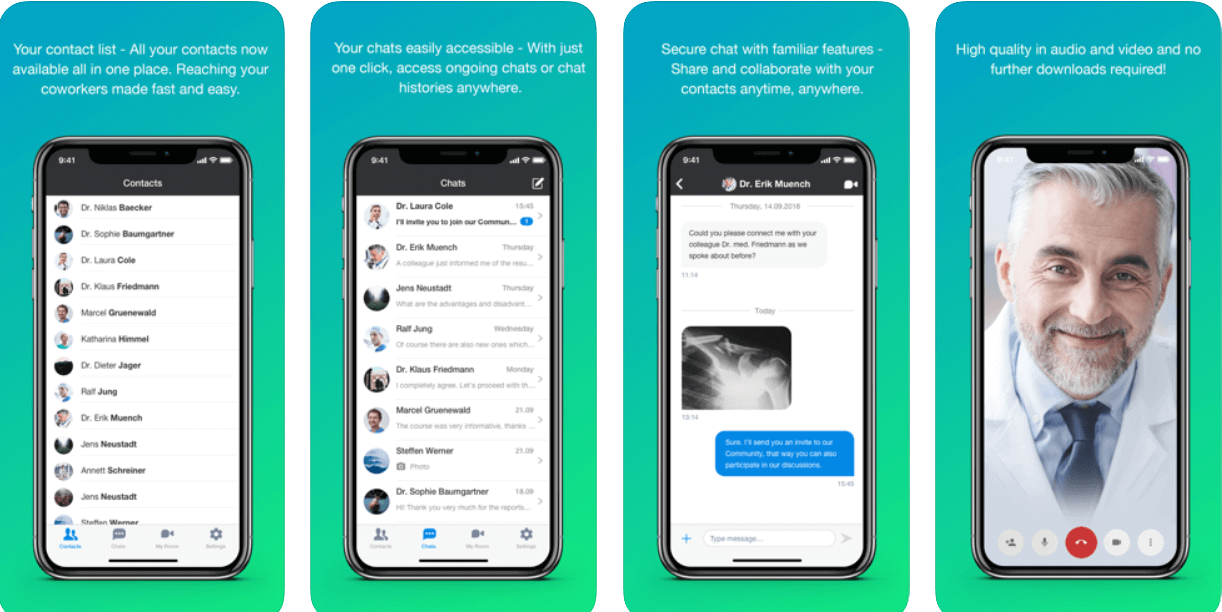 [Source]
In case of the platform's downtimes, you can receive technical support via online chat during working hours.
Since comjoodoc's feature set is tailored to your specific needs, the price of such a solution is calculated individually by the platform's representatives.
Spruce Health
Spruce is a HIPAA-compliant platform for video and messaging communication between you and your patients. This telemedicine software also ensures secured notes, VoIP phone communication, and voicemail transcription.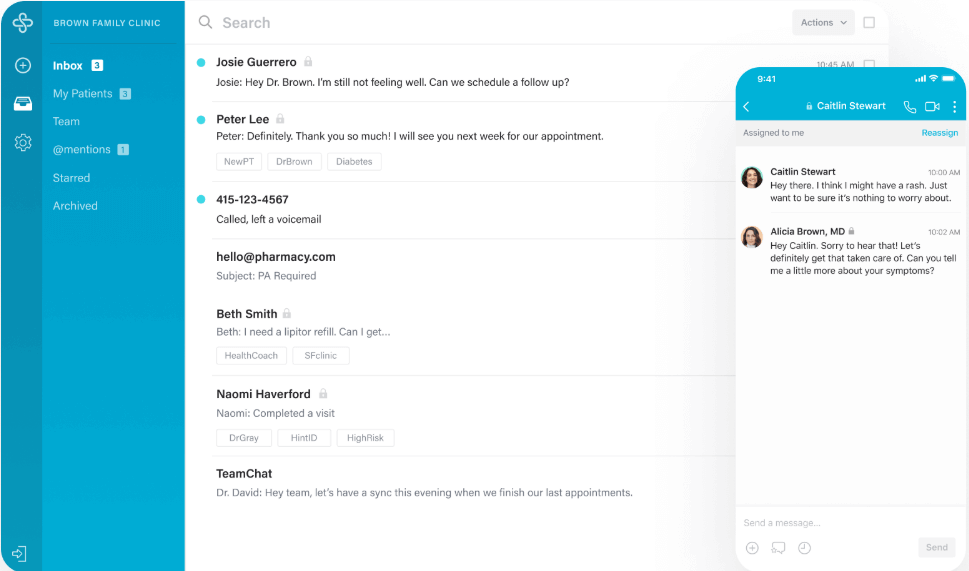 [Source]
You can choose among free and paid Spruce versions.
The Basic Spruce plan includes a trial period for 60 days per user, per month, then the platform will charge $24. This tier includes essential features for successful telemedicine consultations
Video Calling
Spruce Visits
Secure Team Messaging
Spruce Phone Number
E-Fax
Business Associate Agreement (BAA)
Communicator plan will cost you $49 per user, per month. In includes the same features as the Basic plan, and several advanced functions
Custom Inbox Configuration
Phone Trees
Practice Hours
Workflows
Mobile Payments
Spruce provides all users with free learning materials and supports integration with your existing EMR system. Also, Spruce includes resource management capabilities for workflow automation, which is handy for medium to big clinic owners. Spruce also includes a built-in payment gateway for billing patients after video consultations.
Mend (Mendfamily)
Mend, also known as MendFamily, is a secured telehealth platform that meets HIPAA, HITECH Act, E-Sign Act, COPPA, ADA WCAG 2.0, CAN-SPAM, TCPA, & 42 CFR Part 2 regulations. The platform will sign a Business Associates Agreement (BAA) with your organization before you start providing video consultations with your patients. To keep information about your patients and appointments secure, the platform leverages API, HL7 (Health Level 7 for transfer of clinical and administrative data), and SFTP (Secure File Transfer Protocol).

[Source]
If you own a medium or large healthcare organization, Mend is your platform of choice.
The platform includes all functions for effective health services and convenient communication with patients:
Patient access to video appointment via the link
Communication via audio, video, and instant messaging
Screen sharing feature
Electronic paperwork
Integrated payments
Electronic queue
Appointment scheduling and reminder
Profile customization for your clinic identity
The platform's support team has an average response time of 23 seconds, so in case you or your patients face some technical issues, you will immediately receive support.
Before you decide that this is the best telehealth solution for your practice, you can run demonstration sessions with Mend's representatives.
The platform offers three pricing options, different in length and features provided:
A monthly subscription of $59, includes a 7-days free trial and a full package for telemedicine software features.
Annual Subscription is 17% cheaper than the previous option, so you pay only $49 per month.
Mend Pro Telehealth includes EHR/PMS integration and is calculated on demand.
OnCall Health
OnCall Health is compliant with both HIPAA and PIPEDA regulations. The platform encrypts all video consultations with a 256-bit encryption protocol and does not record or store them. Before you start using the platform, you must sign a Business Associate Agreement (BAA).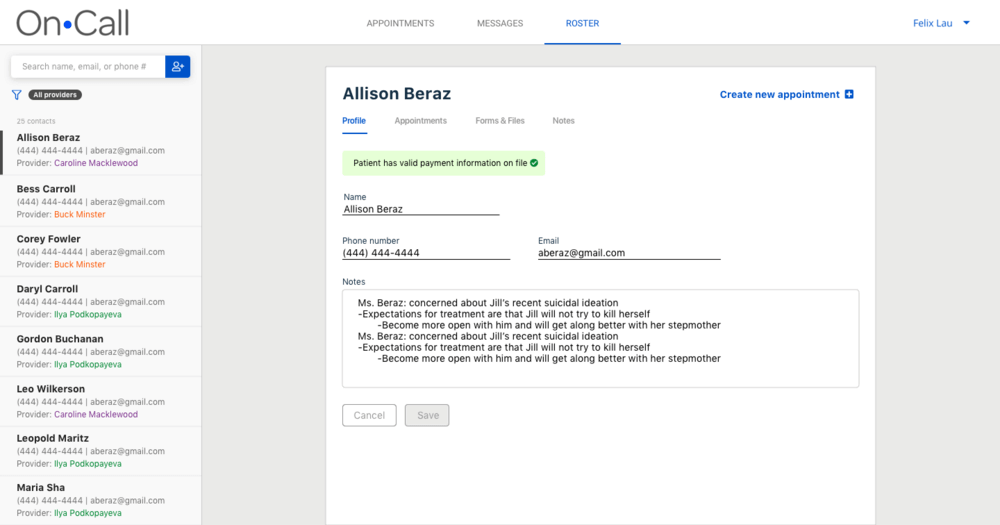 [Source]
The platform provides visitors with a full-stack feature set for telehealth:
1-on-1 or group video appointments and group video calls up to 25 participants
Encounter-based instant messaging
File sharing
Provider-led or patient-led appointment booking
Digital custom intake forms
Automatic billing and appointment reminders
Payment processing
Custom, branded receipts
OnCall Health offers three payment options for clinical practices of all sizes. All plans include one on one training and full-time technical support.
Basic plan (from $49.00/month) includes a primary feature set for telehealth appointments.
Premium tier has more advanced features, including a roster to manage patient records, charting, and session notes, including templates, custom digital intake, and assessment forms. Prices are provided by request.
In the Enterprise plan, you will find EMR integration, analytics dashboard, patient-provider matching, configurable workflow, and multilingual interface, available in English and French. Prices are provided by request.
Premium tier also includes a white label feature, which means you can customize your account on OnCall Health with a custom domain and change the design to meet your clinic's identity.
Telemedicine software platforms comparison
To help you select the most suitable telemedicine platform, we gathered their essential features and pricing policies in the comparison table below.
Platform

Doxy.me

comjoodoc

Spruce Health

Mend (Mendfamily)

OnCall Health

Practice size

For small, medium, and big

For medium and big

For small, medium, and big

For medium and big

For medium and big

Region

The U.S.

Europe

The U.S.

The U.S.

The U. S. and Canada

Security and BAA

HIPAA compliant, with Business Associate Agreement

European data security compliant, GDPR, will be HIPAA-compliant soon

HIPAA compliant, with Business Associate Agreement

HIPAA compliant, with Business Associate Agreement

HIPAA and PIPEDA-compliant, with ith Business Associate Agreement

Telemedicine software features

Video calls
Text chat
Meeting history
Patient queue
Waiting room
Personal training sessions
Payment gateway
EMR integration

Video conference
Document sharing
Instant messaging
Voice calls
EMR integration

Video Calling
Spruce Visits
Team Messaging
Secured phone number
Payment gateway
EMR integration

Audio consultations
Video consultations
Instant messaging
Screen sharing feature
Electronic paperwork
Integrated payments

Video appointments
Instant messaging
Document sharing
Session notes
Branded receipts
Appointment booking
Appointment reminder

Technical support

Online help pages
Email support
Online chat

Online chat during working hours

Phone calls during working hours
Email support

During 23 second via online chat

Full time technical support

Pricing




Free version available
Basic from $35 per month
Clinic providers from $50 per month

60-days free trial
Basic from $24 per month
Communicator $49 per user per month

7-days free trial
Monthly subscription from $59
Annual subscription from 49$ per month
Mend Pro Telehealth- by request

Basic plan from $49.00 per month
Premium – by request
Enterprise – by request

Adopting a telemedicine software system during COVID-19
With the number of telemedicine solution providers on the market, you can easily find a solution that will meet your practice's needs, suit your budget, and offer the most relevant feature set. You can select from the ready-made solutions we have listed above, or start your telemedicine software development project, perfectly tailored to your clinic.
Related reading:
Case Study: Video Streaming App Proof of Concept
What our clients say