What trends will change the way we perceive mobile and web apps in 2018? Check out our predictions, tips, and tricks.
Who doesn't like nicely designed things? Despite the fact that all people have different tastes and preferences, there are times when you can't help but admire the sleekness or convenience of the product (or service) you're using.
Considering the fact that life is moving at a faster pace these days than it used to for our parents and grandparents, user experience and user interface gain even more importance. Add to that competition on the market and the design might actually be the deciding factor for your users whether to download your app or use your competitor's product.
What is UI/UX Design and What's the Difference
Let's start with defining the terms so everyone's on the same page. For simplicity, let's take dinner at a restaurant as an example.
Content. Basically, this is the data you have for your project – whether it's video content or articles, or e-commerce products. These are all the ingredients that make up your product.
UI – User Interface. This is what the users see and this is what most people think of when they hear of design. In restaurant terms, it's your ingredients of a perfect dish arranged on a plate so it looks good.
UX – User Experience. This is one of the most misunderstood, yet critical, element of a product's design. User Experience designers research user behaviors, delve a bit into psychology, and ensure that the user's interaction with the product would be convenient and pleasant. Think of a dining experience at a restaurant. Your food might look wonderful and the ingredients are fresh, but if your waiter was rude to you or you had to wait for an hour for your dessert, then chances are that you're not going to come to that restaurant ever again.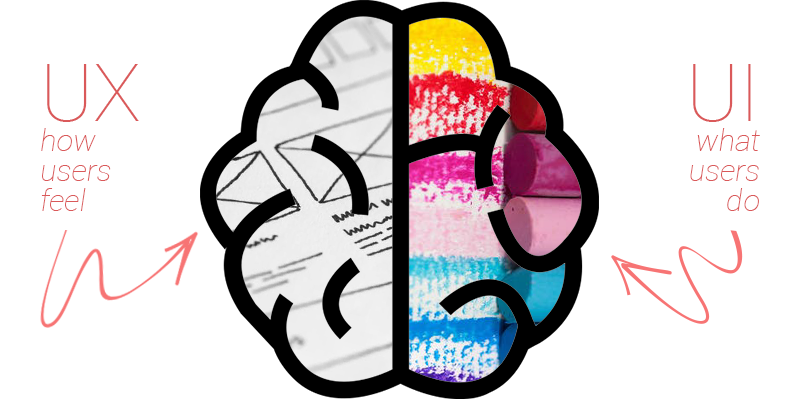 Why Is UX Design Important
As we already mentioned, the user experience is a vital element in deciding whether your client will continue using your product or will start searching for an alternative, more convenient way.
If your user interface design is nice and clean, the users might come to admire it. However, if your product is just pretty to look at and is not user-friendly, you simply won't have a lot of clients.
UI/UX Design as the Start of Project Development
If you are a new business (or if you have started a new business apart from your main one) and the budgets aren't very high at the beginning, starting with the UI/UX design part as well as Technical Documentation is a good idea.
Timewise, designs and documentation don't take months to create (unless you have a very complicated project, but even then it shouldn't take months.)
As a result of investing in these two initial steps, you get a tech spec you can use to find developers for your project (we've got good ones, just sayin') and you get prototypes and wireframes to present to your investors in case they want to click and see what your product does (before you even have a product).
If you are considering presenting your product at events like WebSummit or Collision, then a prototype is a perfect solution for you in case you can't invest a lot in actual development at the moment.
Trends to follow in UI/UX Designs for 2018
In case you're considering ordering UI/UX web or mobile app design in 2018, here are a few trends to follow (or at least consider).
Content-focused experiences. Give your content enough room and don't be scared of those white areas. Let it breathe so that your website visitors or mobile app users would actually get the information they came to you for.
Digital experiences, humanized. While Siri, Alexa, and other AIs are still gaining their more human behaviors, people are looking for humanized digital experiences already. Seek to simplify your processes on the user-side, so that navigating your app would be as easy as asking a friend for a favor.
Voice interfaces. Hello again, Siri, Alexa, and OK Google. With their SDKs available for developers, don't neglect the ability to help your customers use your products when they can't (or don't feel like) type in the requests.
Augmented reality. One of the pioneers in this area was well-known Pokemon Go has taken the world by storm and users have found out the benefits of augmented reality. By now, there are a lot of examples of how AR can be implemented in various fields – from gaming to surgery procedures to translation (thanks, Google).
Fonts, colors, and personalization. Finally, seek ways to personalize your product for particular users. For example, it can be that for older people, your website would offer a slightly larger font or buttons.
The list doesn't stop here, but for each industry, the combination will probably change. Above all, seek to simplify life for your users and help them get the desired results when they use your web product or mobile app.
And yes, just in case, we have an in-house UI/UX designer and awesome web & mobile app developers at the APP Solutions, who can implement all those amazing features that you want to have in your product.
We are recognized as a top User Experience Design Company on DesignRush.