How Much Does It Cost to Develop a Chat App like Snapchat in 2022
Imagine you're a college student who develops a photo messaging app with your frat buddies. Everybody says that it's a terrible idea.
But several years later, Facebook or Google offer you from $3 to $4 billion to buy it, but you reject the offer. In another three years, your company is worth $20 billion. It might seem like a dream, but it's a true story.
This is the success story of Snapchat, a mobile messenger with text, photo and video content that disappears a few seconds after it is received. Snapchat's success inspires a lot of entrepreneurs, and we receive a lot of requests to estimate the cost to build an app like Snapchat.
So, if you want to create a similar app, read on. In this article, you will learn how to create Snapchat and the estimated development cost.
READ ALSO:
HOW TO CREATE A MUSIC APP LIKE SPOTIFY
HOW TO CREATE VIDEO SOCIAL MEDIA APP LIKE TIKTOK
HOW TO BUILD A DATING APP LIKE TINDER
HOW TO MAKE A LIVE STREAM WEBSITE LIKE TWITCH
HOW TO DEVELOP AN APP LIKE NETFLIX
Current Snapchat stats
Currently, there are numerous social media platforms. However, the latest statistics show us that Snapchat is the leading social media network in the United States and France.
You might also like How to Develop a Messaging App Like WhatsApp?
Snapchat copy app might be a good idea for a startup. You can create a Snapchat clone, add some new features, and get a slice of the action. Just have a look at Snapchat's stats below:
But there is more:
From the beginning, Snapchat owners didn't care about making money. But later, the app provided several ways of generating revenue.
In 2022 Snapchat revenue amounted to $4,1 billion
In Q4 2021, Snapchat reported its first quarterly net profit.
As we can see, the Snapchat multimedia messaging app is very popular among users and generates significant revenue.
How to Make an App Similar to Snapchat in 7 steps
Now, let's dig deeper into the Snapchat-like app development process, which includes:
Step 1. Discovery (inception) phase
The main goal of this stage is to find out the functional and non-functional requirements for the future project, estimate the project budget, and business needs.
Step 2. Documentation
During this stage, business analysts and project managers prepare the project's specifications, user stories, and other project-related documents that describe how your app will perform.
Step 3. Prototyping
Then, the mobile development team creates prototypes of your future app scenes and user journey and sends it to you for further improvement.
Step 4. UI/UX Design
Based on the screen prototype, the design team develops the design for your app.
Step 5. Development
When the design is ready, the mobile development team integrates all the necessary features to your app. As the development stage moves forward, your Snapchat-like app developer might clarify specific requirements toward the project's functionality.
Step 6. QA
The quality assurance team conducts tests to ensure that the application is bug-free.
Step 7. Deployment
When the messenger like Snapchat is ready, the team will deploy it to the workspace.
HIRING A DEVELOPER FOR YOUR BUSINESS: A SIX STEPS GUIDE
How Snapchat makes money
So, to generate revenue, Snapchat uses:
In-between Snap Ads. Snapchat shows users 10-second promoting videos. Users can swipe up and access more content, such as a longer video, app install, or blog post.
Branded GeoFilters. Depending on the geolocation, users can access fun augmented reality filters that stay available for 30 days. The app charges businesses $5 for coverage of 20,000 square feet.
Sponsored Lenses. This monetization strategy is similar to Geofilters. Businesses advertise through their own customized lenses that appear in particular locations. In this way, they can promote their brands or events. This ad type is popular among big companies.
OUTSTAFFING VS. OUTSOURCING VS. MANAGED SERVICES: DIFFERENCES AND BENEFITS
Example:
A collaboration with KFC. When visiting KFC, app users revive access to the Colonel Sanders lens filter, which turns users into the white-maned colonel himself.
The "Discover" section. The app place promotion content in the Discover section. The Snapchat live story costs $0.15 per view. Currently, the app is partnering with around 20 big-name publishers, such as CNN, Cosmopolitan, and People.
Sports Partnerships. The app is partnering with sports organizations to promote attendance at sports events. By using this strategy, the app is partnering with Adidas and Nike so that they can advertise their products to sports fans. The app charges $400k to $500k for complete exposure to the company's user base.
In-app purchases. App users can buy additional features such as Re-play to a feed such as a picture or a video that the user has already seen.
Premium access. The app users can buy premium access to new app features and experience new lenses.
Now that you are aware of Snapchat's monetization strategies, move on, and find out the app's core feature set to make an app like Snapchat.
HOW TO OUTSOURCE MOBILE APP DEVELOPMENT
The Snapchat App Core Functionality
When you heard about Snapchat a few years ago, it was a simple messaging app with the primary feature of vanishing messages in one to 10 seconds. But, over time, it has added a vast amount of new incredible features that provide more immersive interaction with the app.
In other words, Snapchat gradually evolved into a mix of private messaging and public content, including brand networks, video-sharing, and live events. Moreover, Snapchat expanded its capabilities and became a multi-entertainment app, transforming from a messaging platform into a media giant with 10 billion video views per day, Bloomberg has reported.
Read also:
Case Study: Video Streaming App Proof of Concept
How To Build a Mobile App With Geolocation
Memories are one of the features that provide a new way to save Snaps and Stories on Snapchat. Users can create new Stories from Snaps they've taken, or even combine different Stories into a more extended narrative.
Also, Snapchat has launched some new features, including new photo and video filters, the capability to add emoji stickers to videos, and changes in chat.
Snapchat social media app functionality comprises features that can be used for two purposes:
Message exchange
Public content
Message Exchange
Snapchat has added additional value to such a simple thing as chatting, providing it with a set of amazing features.
In Snapchat, app Users can create multimedia chats called "snaps." These snaps can comprise of a photo or short video; they can be edited with filters and effects, text captions, and drawings. In the Chat 2.0 recent update, you can send audio notes, make video and audio calls. Snaps can be directed privately to selected contacts, or a semi-public "Story." These personally posted messages can be self-destructed automatically after a few seconds.
Also, the app allows location sharing. When the user starts typing an address into chat, it displays a card that links to the Google or Apple Maps app.
FUNCTIONAL VS NON-FUNCTIONAL REQUIREMENTS: MAIN DIFFERENCES & EXAMPLES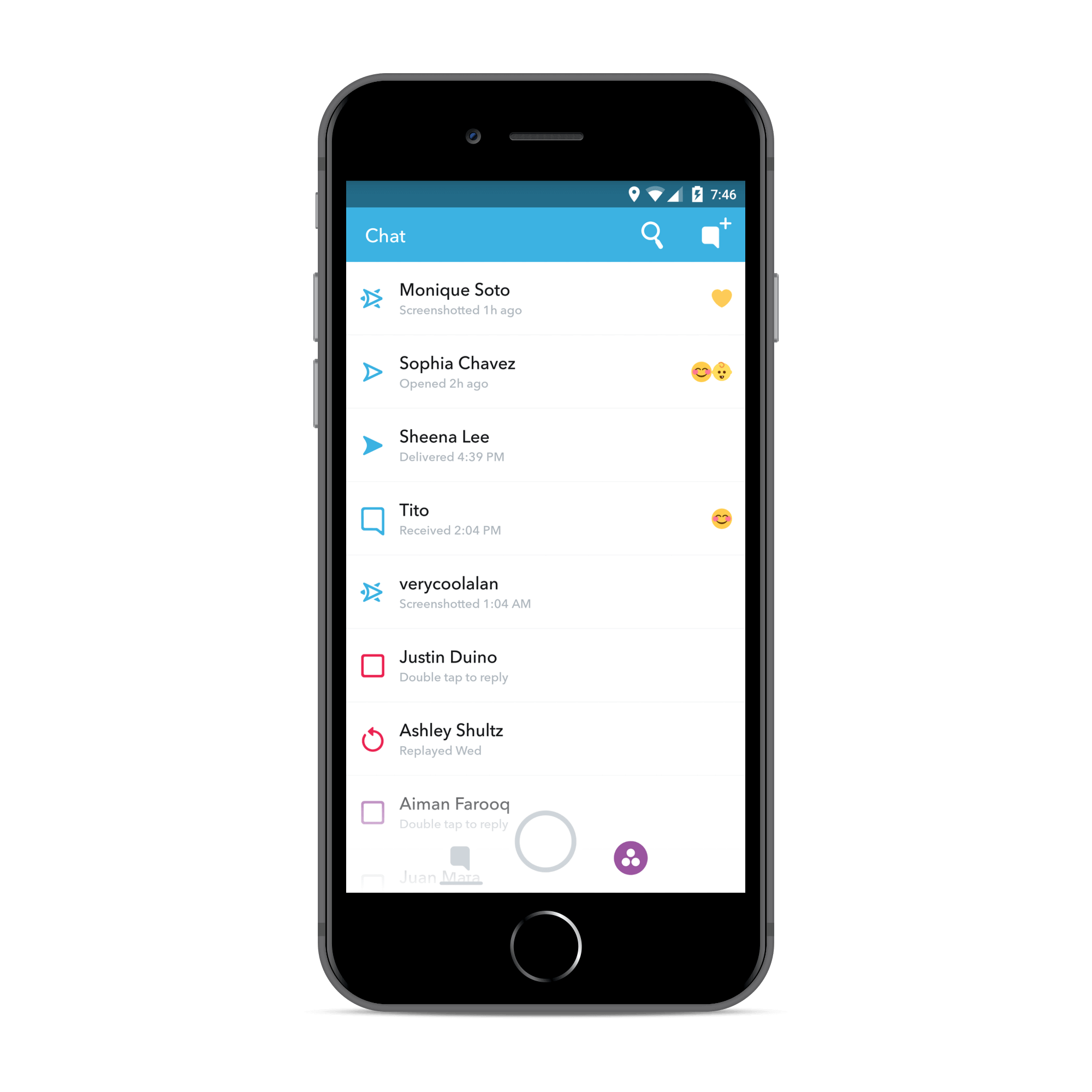 Automatically self-destructed messages
Self-destructing messages are a custom feature of Snapchat and one of the things that made it so popular among teenagers.
Before you create custom features, you need to develop a messenger app. Answering the question "How to make a messenger app?" we recommend using the ready-made solutions as a basis for your future product to save you money and time.
You might also like: Android vs. iOS Development
But how does it work?
When the user sends a message, it's uploaded to the Snapchat server.
The user receives a push notification about the new snap, which is downloaded to a temporary location on the user's phone.
When the user opens the snap, the app deletes the temporary message copy from the phone and alerts the app server.
Then, the message is destroyed from the Snapchat server. The app also automatically deletes messages if the user has not viewed them within 30 days.
Now, moving on.
WHAT TECH STACK TO CHOOSE FOR YOUR PROJECT
Stickers
Stickers have become an inevitable part of modern communication. Snapchat contains 200 stickers built into its app. You can use a custom solution (design your stickers) or use a ready-made solution that is much cheaper.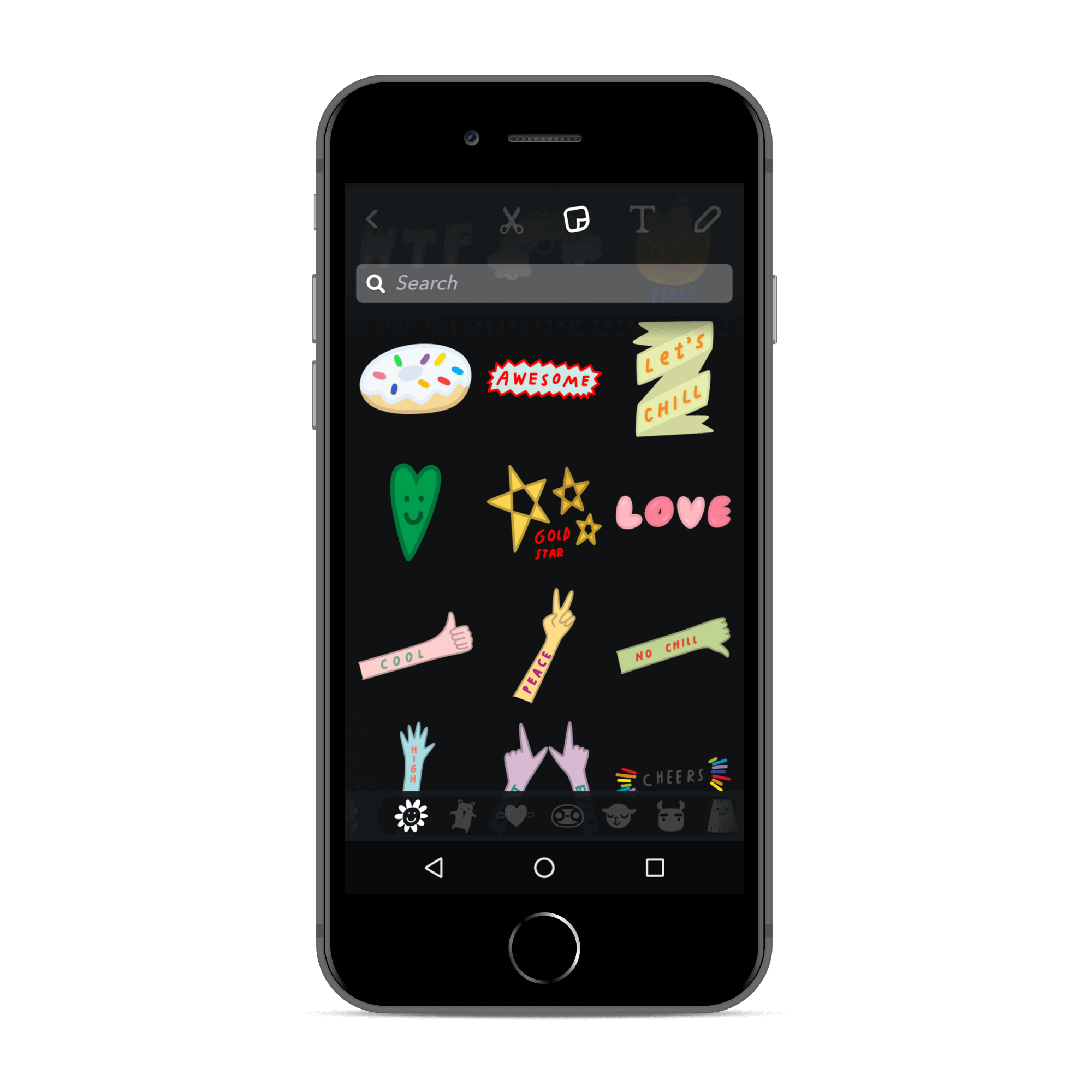 Location sharing
By using this feature, Snapchat users can share their location with friends or other users. Their site will appear on Snap Map. App users can also choose who can see their place or update it only when they have Snapchat open.
Image source: Techadvisor
Adding friends
It is an essential function of a social media app. Besides the standard methods of adding friends via usernames and phone contacts, Snapchat provides some smart ways:
Snapcodes. Black dots that surround the Snapchat Ghostface Chilla logo is a personalized QR code. Another user can scan it by using the Snapchat camera, and he instantly begins to follow you. Here, a recognition algorithm is being used, and an algorithm for the generation of such codes.
Add Nearby function. This function uses your location to scan other users in your proximity who also have Add Nearby open. The app sends the device's coordinates to the server, the server in its turn compares the geolocations of devices with the Add Nearby screen opened.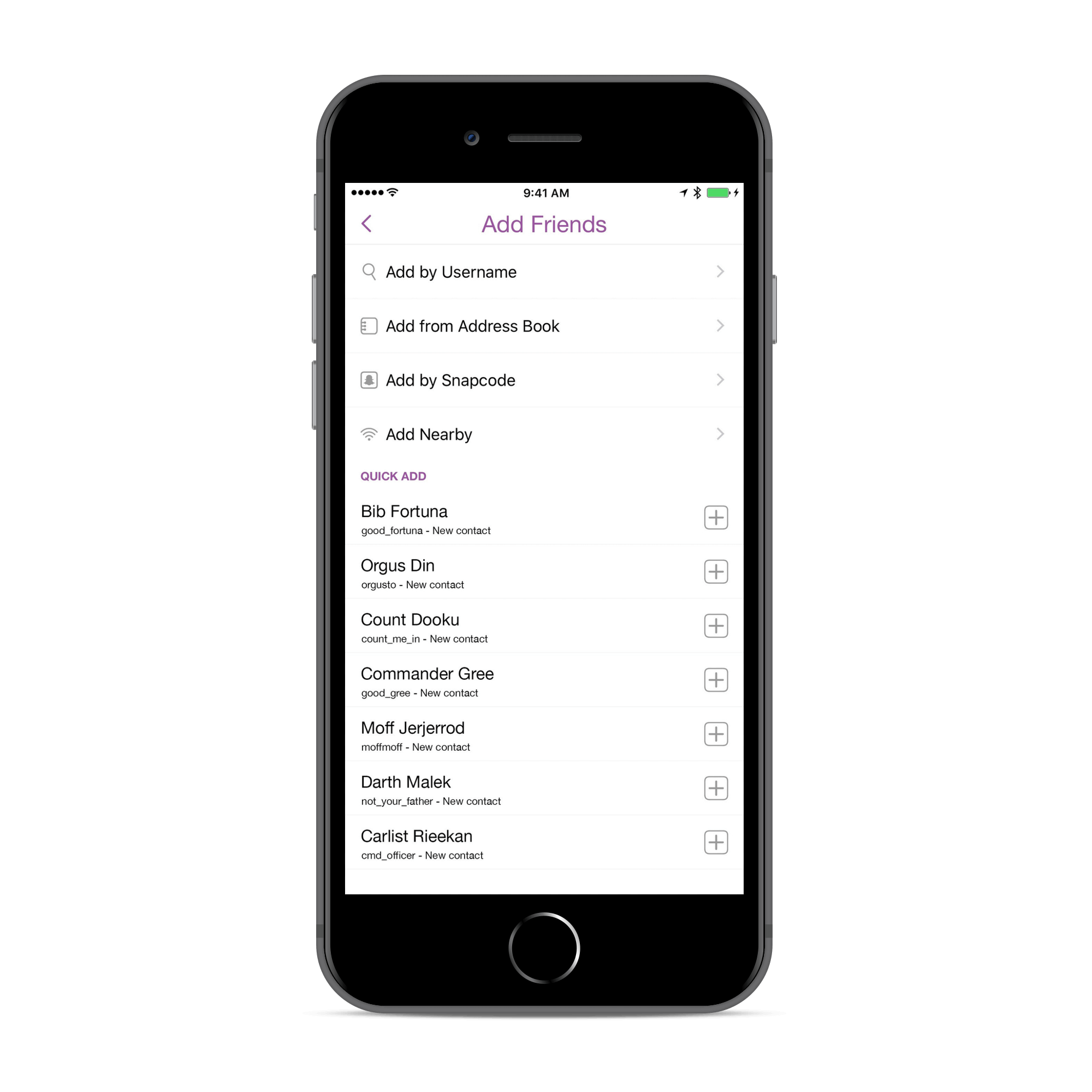 Video and Audio Calls
In the updated version of the chat, app users can start talking or video chatting instantly with one tap. If the recipient isn't online, you can send an audio note.
This feature turns Snapchat into a phone alternative and brings it close to Facebook Messenger and Whatsapp.
Geofilters
A feature, known as "Geofilters" is a unique graphical overlay that is available when the user is within a precise geographical location, such as a city, event, or destination.
To allow your users to mark their location on the images, developers use geocoding. Geocoding is a computational process that converts the geographic coordinates to a description of a location, usually the name of a place. Then the name of the area is overlaid on the image in a template.
HOW TO MAKE AN APP: LIFE CYCLE OF MOBILE DEVELOPMENT
Lenses or Filters
The "Lens" is one of the most exciting features of Snapchat. It allows users to add real-time effects and alter video images by using face detection technology. This feature became possible when Snapchat acquired the startup Looksery. The startup does a facial modification and enables users to simulate their appearance for a photo or video chat in real-time on mobile platforms.
Now, we find out how it works.
The app uses the Active Shape Model to detect a user's face by marking their facial borders.
Powered by a machine learning algorithm, the app creates the average face and aligns it with the image provided.
Then, the app algorithm corrects errors to make the filter perfectly match the user's face by analyzing the pixel data around the face borders.
Next, the app uses these points to coordinate and adjust a mesh, a 3D mask that the user can shift and scale with a face.
Snapchat filters based on 3D face masks enable users to deform the mask to change their face shape, add accessories, set animations, and more.
Stories and Discover
Stories functionality enables users to broadcast photo and video content from their lives to friends; each story lasts 24 hours. It refers to free content and provides users with capabilities in the same way as social networks do.
Later this feature was expanded to "Live Stories." Stories enable new functionality when Snapchatters who are at the same event location (such as music festivals or sporting events) can contribute Snaps to the same Story.
The "Discover" option provides a new way to explore Stories from different editorial teams. It contains sponsored short-form content from major publishers, such as BuzzFeed, CNN, Mashable, People, and many others. Every edition is refreshed after 24 hours, because, as the Snapchat team believes, "what's news today is history tomorrow."
SHOULD YOU HIRE APP DEVELOPERS NEAR ME OR OUTSOURCE OVERSEAS?
Tech Stack for the Snapchat-like app
Below you will find what software Snapchat uses. Consider the following technologies to develop an app like Snapchat so as to be on the same page with your development team.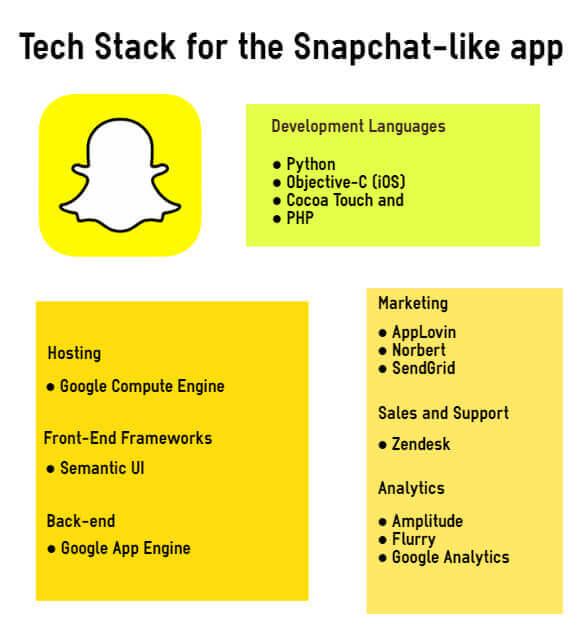 How much does it cost to build an app like Snapchat?
A Snapchat mobile app seems to be a vast machine with many features. It will take more than a year to create apps that look like Snapchat. And the price of this will be high as well.
How much does it cost to make another Snapchat?
You also can check out the feature list and estimated development cost below.
Automatically self-destructed messages

Facebook Messenger SDK
Telegram SDK

1,5 months for two platforms – iOS and Android.

It costs about $10K for the iOS platform and $9K for the Android.

Location sharing

Apple MapKit
Google Location SDK

120 hours

From $2K to $4K for both platforms.

Snapcodes

Eventdex Android
Semacode iOS

One month

From $8K to $10K per one platform.

Nearby function

Android

iOS

Google Maps SDK
Apple MapKit

One week

From $3K per platform.

Video and Audio Calls

About one month

$12K for iOS

$14 for Android

Lenses or Filters

About one month

$8K for iOS

$8K for Android
But we recommend launching apps similar to Snapchat as MVP. The MVP of a Snapchat-like app will include only the essential functions as registration, media content sharing, user profile, and text messages. Find the estimated time in the table below:
Feature

Description

Estimation in Hours

Registration/ login feature

The user can log in via

Email
Phone number
Social network

Around 10 to 16 hours.

User profile

The app user can modify

Profile picture
Password
Contact details
Name
Gender
Phone number

From 60+ hours

Posting

Users can post

Users can apply editing tools

Effects
Filters
Smileys
Emoticons

Up to 320 hours:

applying filters 120+ hours

creating custom filters 120+ hours

cropping and rotating photos 80+ hours

Embedded messenger

Enable users to exchange messages

Up to 40 hours

Total

From 430+ hours
The App Solutions experience
Our latest social media project is QuePro, a public chat mobile app that will connect users with professionals from various spheres. QuePro allows users to post their queries or questions and receive answers from local professionals.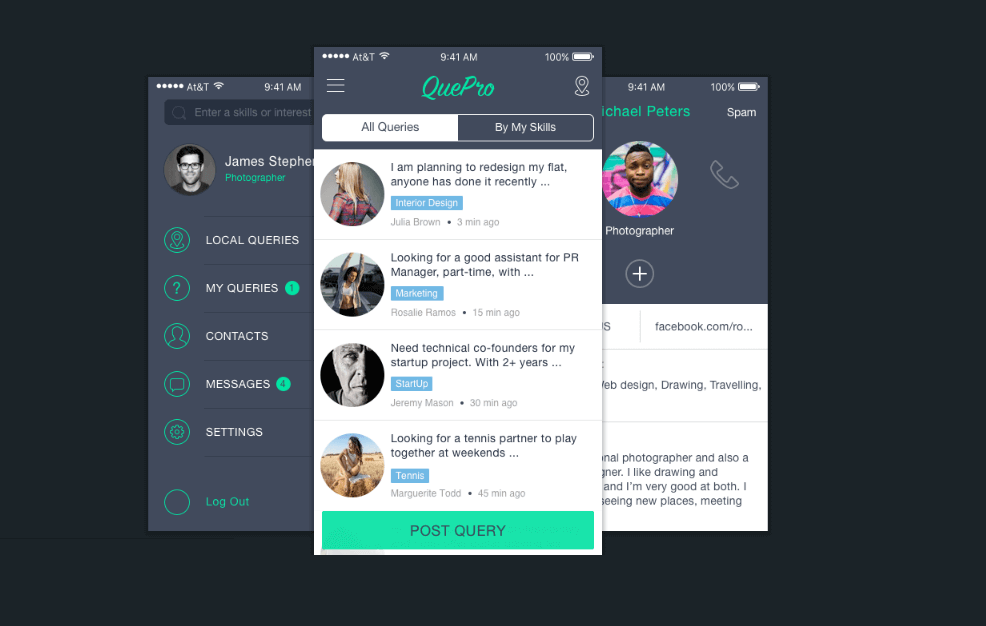 [QuePro Newsfeed]
To speed up the development process we used EventBus, an open-source event library that simplifies communication between components and performs well with UI artifacts.
We also enabled the app by sending notifications to users using Google Cloud Messaging.
Despite tight deadlines, we managed to implement the critical features after just three months.
Read the full case study to find out more about this project.
We have also developed AllSquare, a social media application for golfers. AllSquare offers users many opportunities to share their golf achievements, engage with golfers from all over the world, and find a golf course nearby.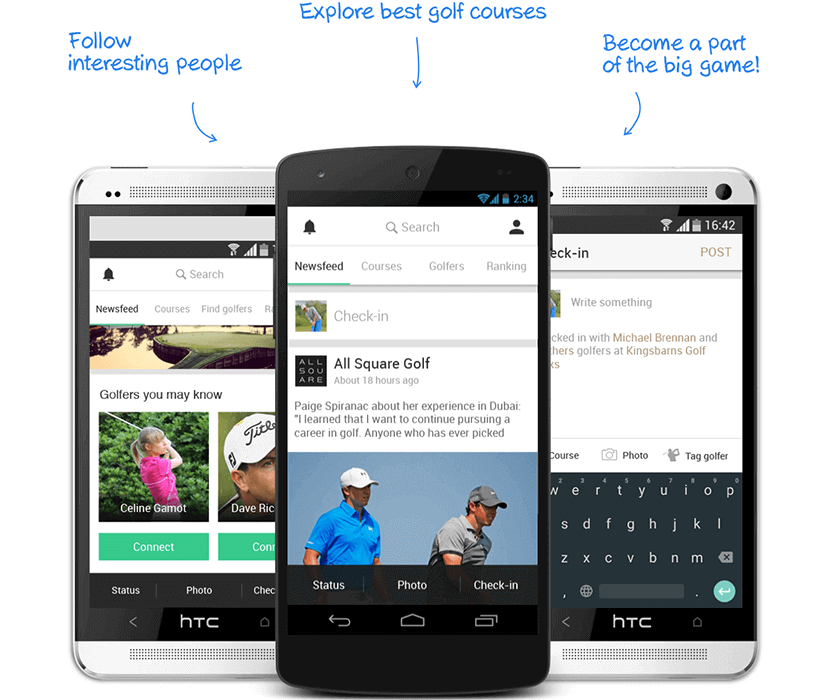 [AllSquare Newsfeed]
To create AllSquare, we used:
in combination with RX Java for accessing the app backend.
In this way, we implemented the reactive programming paradigm for asynchronous operation with API, files, and databases.
Follow the link to find out more about this project.
The Bottom Line
Snapchat, one of the most popular social media platforms, provides users with numerous tools for photos and video editing. The most notable Snapchat features are lifters and masks, powered by a machine learning algorithm.
If you want to develop an app like Snapchat and make it accessible, you should consider these features. Besides, with many monetization options, you can make your app like Snapchat profitable.
HOW MUCH DOES IT COST TO DEVELOP AN APP: DETAILED FEATURE BREAKDOWN
Since the platform has many integrations and sophisticated features, it is hard to give an accurate project estimation. However, you should take notice of the following – chat app development cost is determined by three main factors that have an impact on the total budget and project duration.
They are:
The project scope. It's not obligatory to implement all of the features presented in Snapchat. You can choose some of the best features and then we will estimate how long it will take and how much it will cost.
The timing of the project. The same amount of work can be carried out in different time frames. It depends on the number of developers involved in the project.
Budget. We prefer Time&Material budgeting for smaller projects and Dedicated Team models for longer-term projects.
So, feel free to contact us with any questions on how to develop a chat application. The App Solutions team will help you to estimate and realize all of your project ambitions.